| | |
| --- | --- |
| Rowland & Marsellus Co | |
Rowland & Marsellus (of new York, USA) were importers, wholesalers and retailers, especially of 'souvenir' wares.

They operated c.1893 -1938.

Rowland & Marsellus dealt with numerous Stoke-on-Trent (Staffordshire, England) pottery manufacturers and then sold the wares (with their R&M backstamp) to other distributors in America.

Many pottery items decorated with American views were made. Of special interest to collectors are the plates with rolled edges, usually blue and white. The plates have a central design showing a building or scene, and several other related scenes in cartouches on the rolled-over edge of the plate.

Most were souvenir plates for cities in the United States.

A few items have both the mark of the manufacturing pottery and Rowland & Marsellus, most just the mark of Rowland & Marsellus.

Often the Rowland & Marsellus mark says "STAFFORDSHIRE, ENGLAND" - this is where the pottery was made - not the place where Rowland & Marsellus were based.


---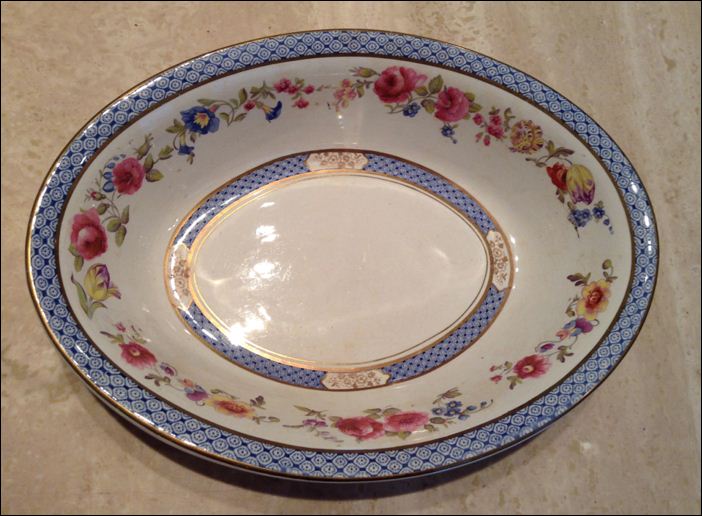 Oval plate made by the Soho Pottery Company for Rowland & Marsellus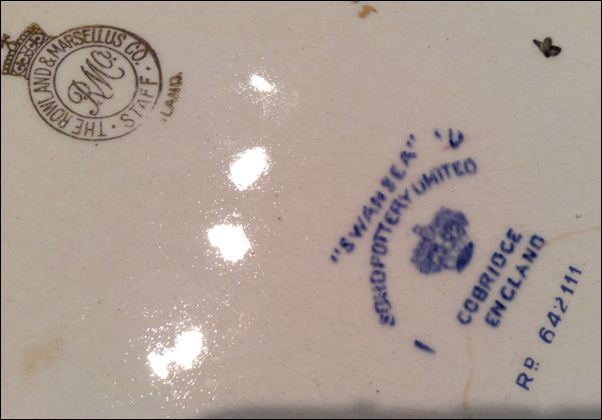 Marks on the back of the plate
The plate was made by Soho Pottery Limited at their works in Cobridge, Stoke-on-Trent, England.

"Swansea" is the name of the pattern.

RD 642111 is the Registered Design number - this dates the design to 1915.

Although the Rowland & Marsellus mark says STAFF (Staffordshire) ENGLAND - they were importers based in New York, America.
---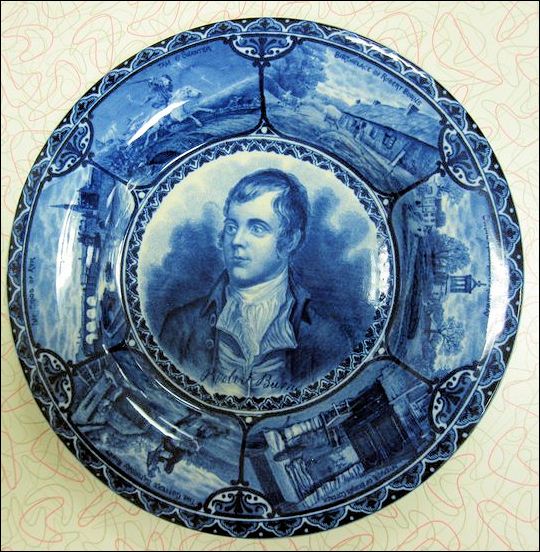 A Robert Burns commemorative plate imported
into America by Rowland & Marsellus
---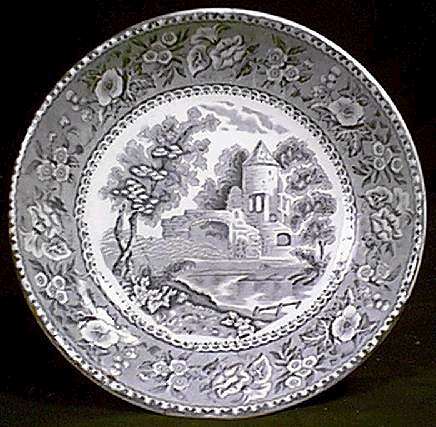 Serving bowl
It has a greyish greenish blue design on a white background.
The design in the center of the bowl is an English Castle scene
with various flowers and leaves around the border.
The mark on the bottom is a diamond with "R & M Co"
this bowl was probably produced by
British Anchor Pottery Co. for Rowland & Marsellus
---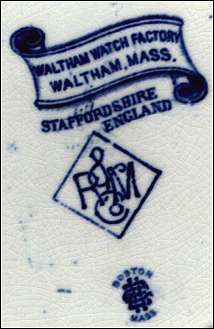 This mark is on a blue transferware historical plate.
It is a view of the Waltham Watch Factory in Waltham
The marks tell a story:
a) "Waltham Watch Factory" - the 'commissioner' of the plate in Massachusetts
b) "Staffordshire England" - the plate produced in North Staffordshire, England.
c) "R & M Co" - Rowland & Marsellus, the New York importer.
d) The bottom monogram is probably for the retailer in Boston.
---
qurstions/comments/contributions? email: Steve Birks
---