Ash Hall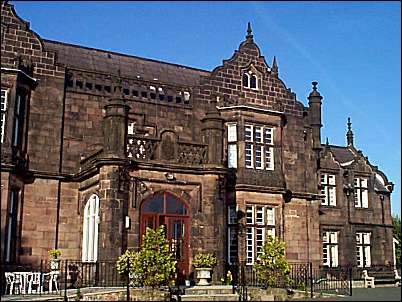 Ash Hall, Ash Bank Road, Werrington
Built 1837 for Job Meigh I
Photo: 2000



Take a 'walk' around the Ash Hall Estate
date
event
1835
Almost immediately the partnership with Hicks & Johnson was dissolved Job Meigh II prepared to move from Bank House to a new estate
1837
Job Meigh II, bought the Ash Estate. He built Ash Hall where he lived until his death in 1862
1849-57
Between 1849 and 1857 Job Meigh rebuilt or improved many of the Ash estate buildings which were virtually all constructed in the local sandstone.
1862
Job Meigh II died at Ash Hall on January 30th 1862
1862-70
Elizabeth Meigh (the widow of Job Meigh II) continued to occupy Ash Hall until her death in 1870.
1870
The son William Mellor Meigh I moved from Ash House to the Ash Hall.
1876
William Mellor Meigh I died in 1876, aged 69
1876-1922
Ash Hall became the residence of the William Mellor Meigh II until his death in 1922.
1922
Anita Maria Meigh (William's wife) died.
1925
By 1925 the estate had been broken up and many of the farms were purchased by their tenants.
Ash Hall and surrounding land were sold to James Grant, a builder, who converted it into a hotel and laid out a 9 hole golf course in the Park. He cut down the trees on Ash bank road and built new houses.
Used as offices for the pottery manufacturing group Ridgway & Adderley Ltd and Booths & Colcloughs Ltd.
(in use in 1955)
Ash Hall became a Residential and Nursing Home.