Gilder | Guilder | Pottery industry Jobs

Gilder | Guilder

[ Web Site Index ]
Gilding (or Guilding) is the application of gold to the pottery ware.
The gold applied is very thin and usually applied on top the glaze (which means that it can be rubbed off - so care is needed).

The gold to be applied can be in leaf form or in suspension.
Gilding
Various relatively impermanent forms of gilding were employed on salt-glazed stoneware, earthenware and porcelain in the 18th century, either by means of an emulsion composed of linseed oil and mastic, jappanners' size, amber varnish, or honey. These were fixed by firing at an extremely low temperature.
Honey gilding was used at Chelsea and Worcester. It was rather dull in appearance but could be applied with enough thickness to allow for chasing. It was much more durable than size gilding.
Mercury gilding was introduced about 1785, raised gilding in 1802, liquid gold about 1811, bright burnished gold in 1860, and acid gilding in 1863.
Gold has been applied by pencilling, by transfer-printing, and with rubber stamps.
From: "English Pottery & Porcelain" - Mankowitz & Hagger

example of gilding on the rim of an Aynsley plate

1840 Report:-

In 1840 the House of Commons set up a commission to inquire into the state of children employed in the mines and manufactories. Samuel Scriven visited the area of Stoke-on-Trent from December 1840 onwards to collect evidence.

"employments of children are various and dissimilar; in some of the rooms great numbers are congregated together, while in others there are only one or two; the painting, burnishing, gilding, flower-making, moulding, figure-making, and engraving, constitute literally schools of art, under the superintendence of- masters and mistresses."
this is the summary of his findings on wages >>>
WAGES
Their wages are considered the best of any staple trade in the kingdom, averaging, when in full work-that is, 12 hours per day, or 72 hours per week (deducting 1.30 hour for meals): -
| | | | |
| --- | --- | --- | --- |
| | £:ss:dd | | £:ss:dd |
| Slip Makers | 1:19:00 | Gilders | 1: 04:00 |
| Throwers | 2:00:00 | Warehousemen | l: 04:00 |
| Turners | 1:12:00 | Ground layers | 1:04:00 |
| Plate, Dish, and Saucer Makers | 1:18:00 | Scourers | 10:00 |
| Pressers | 1:10:00 | Slip Assistants | 18:00 |
| Moulders and Modellers | 1:10:00 | Throwers Women | 9:00 |
| Dippers | 1:12:00 | Turner's Treader | 10:00 |
| Oven Man (per Oven) | 3:00:00 | Oven Assistants | 18:00 |
| Printers | 1:10:00 | Tranferrers | 10:00 |
| Painters, Landscape and Flower | 2:00:00 | Sorters | 9:00 |
---
Shaw "When I was a child" CHAPTER XII A strike and its consequences

"My father, as I have stated, was "a painter and guilder." He worked at Davenport's. A new manager there introduced new methods of conducting the business. For one thing he introduced female labour in a department which had hitherto belonged almost exclusively to the men. This new competition was resisted, partly as an innovation and partly because of the serious reduction in wages it involved.

The men resented and resisted the change. They struck with the winter before them....

I suppose my father must have been a sort of ringleader in this strike, for many years after I saw a letter from his brother-in-law, who was one of the managers of the works, to say that if he did not give up his support of the strike, Mr Davenport had told him that he would ruin him, and force him and his family into the workhouse. This bitter prophesy became bitterly true.

on Shaw

---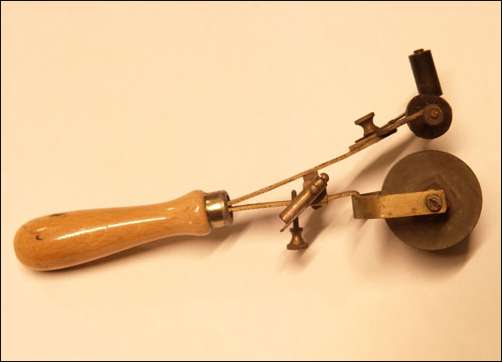 Gilder's banding tool.

Used for applying gold decoration to the flanges of plates or dishes.
A lever, which keeps the larger inked roller away from the smaller roller. When the lever is released these two rollers come into contact and the ink is transferred from the large roller to the small roller and onto the ware.

The large roller is mounted on a threaded spindle so that it moves from one side to the other as it rotates. This ensures an even application of colour.

The small roller is interchangeable, enabling many widths of banding.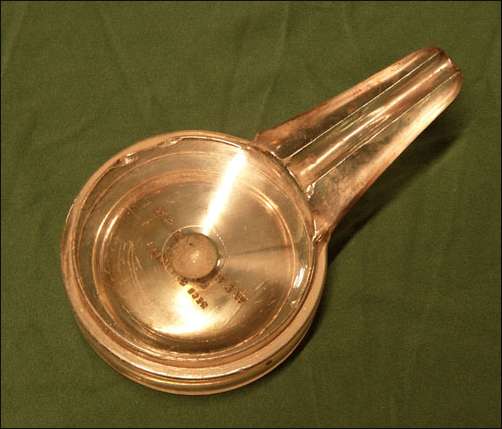 Gilder's shell (made from glass) with pencil rest.
Used by pottery decorators when using gold.

Sometimes known as a gold shell, the shape is designed so that expensive excess gold from the pencil (brush) drains back into the central well.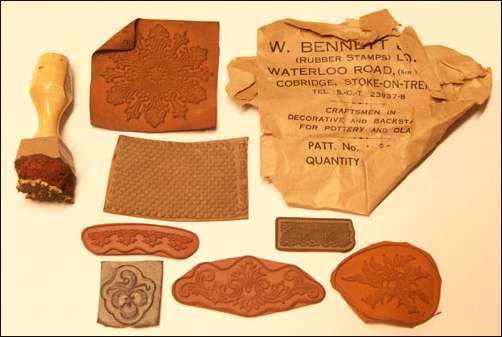 A selection of rubber gilding stamps.
Used to apply gold decoration to glazed pottery.


These tools were from the Gladstone Pottery Museum Tools Collection and are now part of the collections at Stoke-on-Trent Museums.
Photos and text (c) supplied from: Staffordshire Past Track
---
Examples of "gilders" from the 1881 census for the Potteries area:-
1881 census:
Dwelling: 20 Wise Street
Census Place: Trentham, Staffordshire, England
| | | | | |
| --- | --- | --- | --- | --- |
| Name | Marr | Age | Sex | | Birthplace | Occupation |
| Frederick BETTELEY | M 38 M | Head | Wolstanton, Staffordshire | China Gilder |

1881 census:
Dwelling: 98 Peel St (Dresden, Longton)
Census Place: Trentham, Staffordshire, England
| | | | | |
| --- | --- | --- | --- | --- |
| Name | Marr | Age | Sex | | Birthplace | Occupation |
| Fredk. J. WARREN | M 41 M | Head | Longton | Potters Presser |
| Emma WARREN | M 42 F | Wife | Longton | Potters Gilder |
| Arthur WARREN | 13 M | Son | Longton | Potters Flower Painter |
| Lizzie WARREN | U 18 F | Daur | Longton | Potters Gilder |
1881 census:
Dwelling: 35 Upper High St
Census Place: Stoke Upon Trent, Stafford, England
| | | | | |
| --- | --- | --- | --- | --- |
| Name | Marr | Age | Sex | | Birthplace | Occupation |
| Richard KELSALL | M 59 M | Head | Hanley | Sinker For Mine |
| Adeline KELSALL | U 22 F | Daur | Hanley | Potters Guilder |
---
---