Listed Buildings in Stoke-on-Trent and area
Calcining works with square kiln, Middleport
---
Area
Burslem/Middleport
Street
Milvale Street
Heritage No.
102 A B
Grade
II
Date Listed
09 Nov 1992
Building: Former calcining works with square kiln
Location:

STOKE ON TRENT SJ8649SW MILVALE STREET, Middleport , Burslem

Description: Early 19thC with additions, brick and tiled roof, courtyard & kilns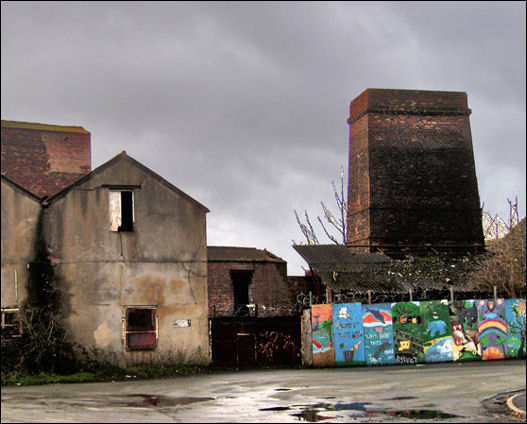 square calcining kiln in Milvale Street, Middleport, Burslem
- alongside the Trent & Mersey Canal.
photo: Chris Oldham - 2007
---

Former calcining works.

Largely early 19th Century, but with later additions reflecting longer period of use. Brick with tiled roofs. Buildings arranged around a yard, with kiln in centre, square in section, with two flues separated only at the apex. Long range to the right formerly single storeyed raised in the early 20th Century to incorporate a narrow tower.

Various other single storey workshops around the perimeter of the site, and a small gabled building adjoining to the left, possibly formerly an engine house, with tall stack at the side of the gable.
---



Square kiln of the calcining works


Detail of the yard and the loading bay where the
calcined product was loaded in the barges.


Corner of Pidduck Street and Milvale Street


The canal is the Trent and Mersey and we are looking towards Etruria.

photos: Steve Birks Oct 1999





next: Calcining Hovels at Newport Lane, Middleport
previous: St. Mary's Works, Uttoxeter Road, Longton