Listed Buildings in Stoke-on-Trent and area
Methodist Chapel, Lightwood Road, Longton
---
Area
Longton
Street
Lightwood Road
Heritage No.
81 A
Grade
II
Date Listed
15 March 1993
Building: Methodist Chapel
Location:

STOKE ON TRENT SJ94SW LIGHTWOOD ROAD, Longton

Description:

Methodist chapel. Dated 1816. Stucco over brick with plain tiled roof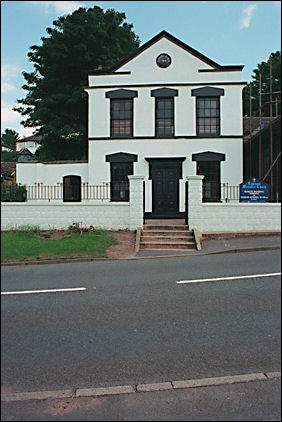 Methodist Chapel, Lightwood Road, Longton
photo: © Donald Pittman August 2003

---

Methodist chapel. Dated 1816.

Stucco over brick with plain tiled roof. Pedimented gable to the street, with central 6-panelled door in architrave with entablature carried on console brackets, and flanking 12-pane sashes with margin lights and shallow pedimented architraves. 8-pane sash window over doorway.

Heavy cornice and central pediment with plaque inscribed "Mount Zion 1816". Stack on side elevation, and a single window.





next: Sutherland Institute, Longton
previous: Bottle Ovens at Albion Works, King Street, Longton