Trubshaw Cross:
The development of the roads, industry & commerce ....
"The road running north and south through the Potteries was at first only a side way from the main road from Cheshire to Lichfield through Newcastle and Stone.
In 1763, however, it was turnpiked as far south as Burslem—a triumph for Josiah Wedgwood and the potters over the vested interests of Newcastle.
The road from Brownhills to Trubshaw Cross (presumably the stretch known in the 17th century as Smallbridge Bank) was also turnpiked under this Act, and so was the road from Burslem to Trubshaw Cross (Pack Horse Lane). Thus Tunstall and Burslem were linked with Newcastle.
The line of the road from Burslem to Trubshaw Cross was subsequently altered so that it became the present Newcastle Street, and in 1828 the old road was sold. Enoch Wood bought the part which ran through his Fountain Place Works; the eastern end of this stretch, running from Westport Road down to the entrance of Ford and Sons' pottery, still survives and retains the name of Pack Horse Lane.
The course of the road through Longport was diverted in 1848 to run on its present more southerly line, and a bridge was built over the newly opened railway.
In 1858 a new canal bridge was built at Longport and the road there widened."
From: 'Burslem: Buildings, manors and estates', A History of the County of Stafford: Volume 8 (1963)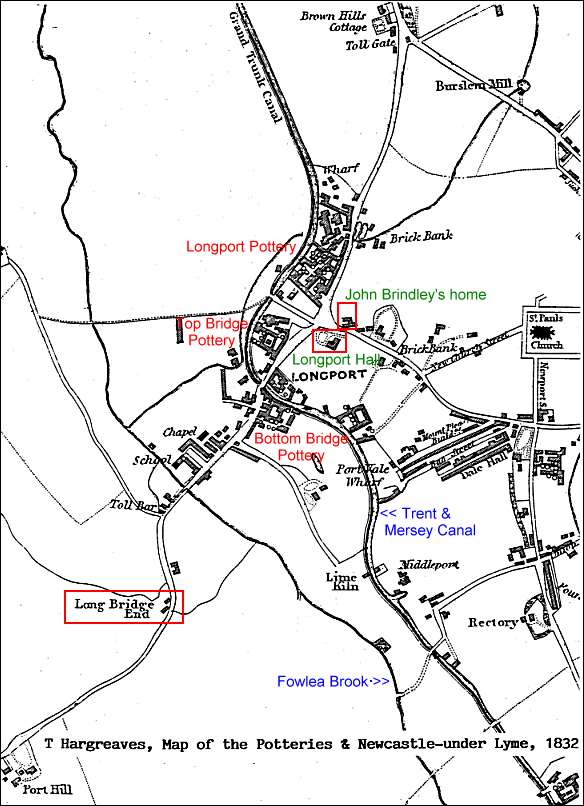 T Hargreaves, 1832 Map of the Potteries &
Newcastle-under-Lyme - Longport Area
The above 1832 map shows the rapid development of the area when compared with the earlier 1775. All of this development was due to the proximity of the canal and main turnpike route and the Davenport pottery factories.
The toll bar and gate near Longbridge End, on the way to Newcastle, and Brown Hills Cottage on the way to Tunstall are clearly seen.

1898 OS map of Longport
This 1898 map shows the development of the streets and the pottery factories in the area. Although clearly defined on the map as Longport the presence of Trubshaw [Trubshawe] Cross at the important road intersection has not been lost.
Keates's Gazetteer & Directory of the Potteries and Newcastle 1892 record the following trades and shops at "Trubshawe Cross"......

| | |
| --- | --- |
| Barlow, Frank | monumental mason |
| Bellingham, George J | picture frame maker |
| Bellingham, William | confectioner |
| Bickley Bros | drapers |
| Lines, Richard | watch & clock maker |
| Liverpool Victoria Friendly Society | Harry Ibbs, district superintendent |
| Mawdsley, Cyrus H. | baker |
| Preston, Fred | builders merchant |
| Sale, Thomas | cooper |
| Scragg, John | confectioner |
| Tabbenor, Richard | greengrocer |
| Turner, Henry | hosier |
| Wood, Charles | shopkeeper |