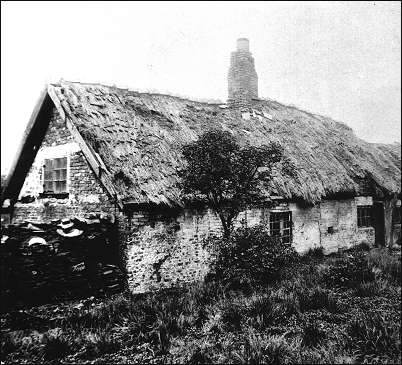 Molly Leigh's cottage on Hamil Road, Burslem

The Jackfield area on a 1922 OS map
The area to the left of the map where Bycars Brick & Pipe Works and Bycars Cottages are marked with blue squares shows how open and desolate the area still was in 1922, many old mine shafts can be seen.
Moorland Road was built in 1820 and Burslem Park was laid out in 1894, the houses where Molly Leigh's cottage was located were laid out in the late 19th and early 20th C.
Molly Leigh died in 1748 - her cottage would have been
surrounded by moor land, mine shafts and marl holes.

The back of the houses on the corner of Hamil Road and Park Road marks the location of Molly Leigh's cottage (shown by the red circle), part of the cottage land is now occupied by Moorpark Junior School.
Hamil Road is shown as a green line and Park Road as purple.

The same area on Google maps - 2008
Burslem Park is still clearly visible.
Bycars Brick & Pipe Works has been replace by Port Vale Football Stadium.
Burslem Port Vale Football Club were founded in 1876 near Longport and after a number of moves finally settled at Hamil Road in 1950.