William Lovatt 1842 - 1918
Tailor. Mayor of Burslem 1901-1903
Birth date:

26 June 1842
Place:
Vale Place, Shelton, Staffordshire, England.

Death date:
29 Dec 1918
Place:
Woodland Avenue, High Lane, Burslem
father: John Lovatt (1810-?)
mother: Martha Woodwiss (1806-?)
William Lovatt
(b.1842 d.1918)
wife 1: Jane Challinor (1846-70)
wife 2: Emma Sanders (1851-98)
Children:
Fred William Lovatt (1870-1871)
Emma Woodwiss Lovatt (1875-1961)
George Lovatt (1877-1899)
William Thomas Lovatt (1882-after 1926)
Alice Lovatt (1889-1965)

1842
William Lovatt born 26th June 1842, the son of John Lovatt and Martha née Woodwise
After leaving school W.L. became apprenticed to the tailoring trade and served his time in a London Establishment.
Subsequently he returned to Newcastle-under-Lyme as assistant in the shop of Messrs. Marsden Bros., who eventually placed him in charge of the Burslem branch.
1867
William Lovatt married Jane Challinor.
1870
William and Jane had a son, Fred William Lovatt on the 24th Nov 1870.
William Lovatt's wife, Jane, died on 1st December 1870.
1871
The child Fred William Lovatt died on 1st June 1871
William Lovatt married again - his bride was Emma Sanders and they married on 29th October 1871 at Wolstanton Registry Office.
1875
Emma Woodwiss Lovatt was born 9 Jan 1875
1877
George Lovatt was born 16 Jan 1877
1881
At the time of the 1881 census the family was living at 44 Wharf Street, Burslem and William Lovatt's occupation was a Clothier's Assistant.
When that business was discontinued he carried on business as clothier, tailor and outfitter at 15-17 St. Johns Square, Burslem.
No 15 was used by Arnold Bennett as the Baines shop in his novel 'Old Wives' Tale'.
1882
William Thomas Lovatt was born 3 Nov 1882.
1889
Alice Lovatt was born 20 Jan 1889.
1891
At the time of the 1991 census William Lovatt carried out his business at numbers 17-19 St. Johns Square as can be seen in the photograph below.
1898
His second wife Emma née Sanders died on 1st May 1898.
1900
William Lovatt became the Councillor for North Ward, Burslem.
1901
W. L. was elected as Mayor of Burslem, and was invited to continue for a second year.
1918
William Lovatt died on 29th December 1918 at his home in Woodland Avenue, High Lane, Burslem.


William Lovatt
Mayor of Burslem 1901-1903
Formal mayor portrait painted by
Fred Stannistreet


1909 picture of St. John's Square taken from Fountain Place


on St. John's Square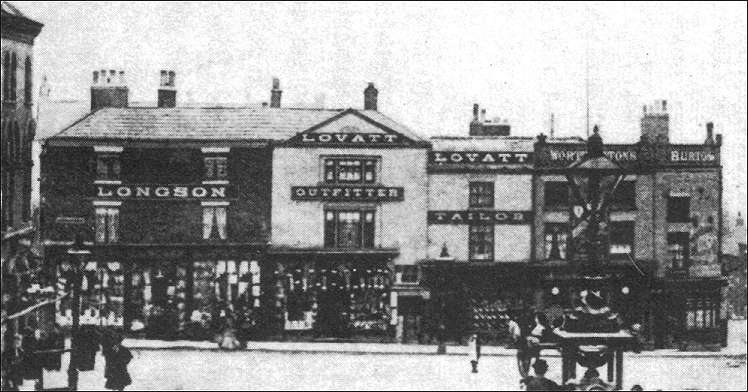 The buildings at the bottom of the Square were (left to right) Longson's,
Lovatt's (Tailors & Outfitters) and Duke William Hotel.
No 15 was used by Arnold Bennett as the Baines shop in his novel 'Old Wives' Tale'.


on Arnold Bennett

1881 census:
Dwelling: 44 Wharf St
Census Place: Burslem, Staffordshire, England
| | | | | |
| --- | --- | --- | --- | --- |
| Name | Marr | Age | Sex | | Birthplace | Occupation |
| William LOVATT | M 38 M | Head | Hanley | Clothiers Assistant |
| Emma LOVATT | M 29 F | Wife | Wolstanton | |
| Emma LOVATT | 6 F | Daur | Burslem | Scholar |
| George LOVATT | 4 M | Son | Burslem | Scholar |

29 Dec 2003