Burslem Motor Club

| index of old black and white photos |
C.T. Lycett
The Great Cycle and Motor Agent
"It was well-known in the community that.. Charles, was the first man in Burslem to own a motor car"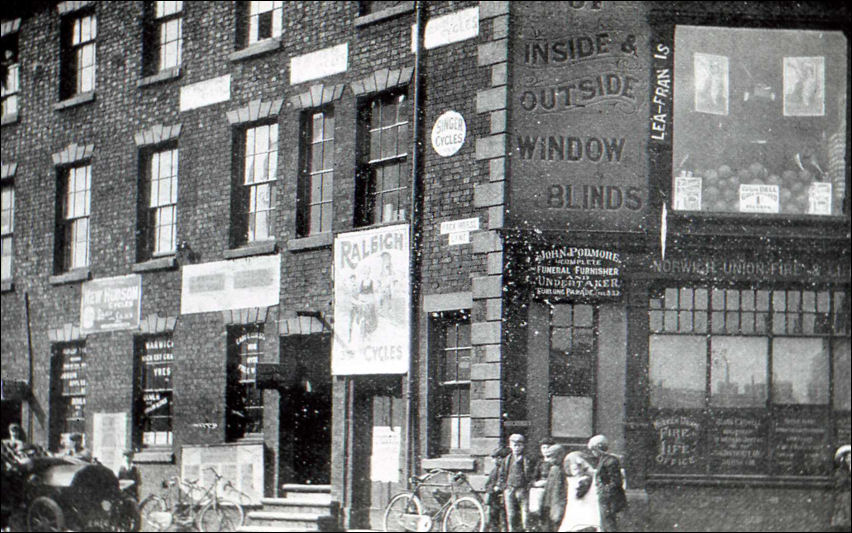 photo showing Lycett's shop on the corner of Packhorse Lane
- click photo for more on Lycett's business at Fountain Place -
Photo: Ewart Morris Collection
The Lycett family blind's manufacturing business was founded in Burslem in 1885 by Charles Taylor Lycett who bought a section of the former Enoch Wood's Fountain Works and rented some rooms at the top of Packhorse Lane.

Charles Lycett was a keen sportsman; and as cycling was then gaining mass popularity he sold bicycles as a sideline from his shop overlooking St John's Square.
---

Lycett's motor business, Packhorse Lane, Burslem
Charles's son, Frank Lycett, took over the running of his father's cycle business, extending it in 1905 to selling motorcycles.
Frank Lycett was born in 1886; around the same time that his father launched the blinds company – an advertising business that, as a matter of fact, became Stoke-on-Trent's premier marketing concern throughout much of the 20th century.

Young Frank was a trained and proficient engineer who, because of his technical skills, attracted a specialist clientele dedicated to the mechanics of motoring, more so than any of his competitors.
---
Frank Lycett was the most often-seen driver about town if only because of his novel and popular chauffeur business which was well patronised.
In 1908 Zena Dare (a British actress who was soon to achieve national stardom in silent movies) was touring in Richeleaux play the Dashing Little Duke, being performed at Hanley's Theatre Royal - Frank ended up chauffeuring the actress around the Potteries.
The young Frank Lycett's name was often quoted by the Sentinel's society reporters as being the young man about town, often at dinners and civic balls.

On another occasion the young man about town refers to chauffeuring Doctor John Russell together with the famous Scottish entertainer, Sir Harry Lauder, to Burslem Golf Club where the legendary music hall star performed the newly-opened club's tee-off ceremony.

There is a reference in the Lycett archives to a touring duty in Scotland in 1912 when Frank, driving his Humber 12 horsepower saloon, drove the same Doctor John Russell. The archive note reports their arrival at Windermere on the first day and by the fifth day they'd reached Aberdeen and the village of Insch, which was Russell's place of birth, and where they lodged before travelling to attend the opening of a medical faculty at Aberdeen University.
Text courtesy of Fred hughes
---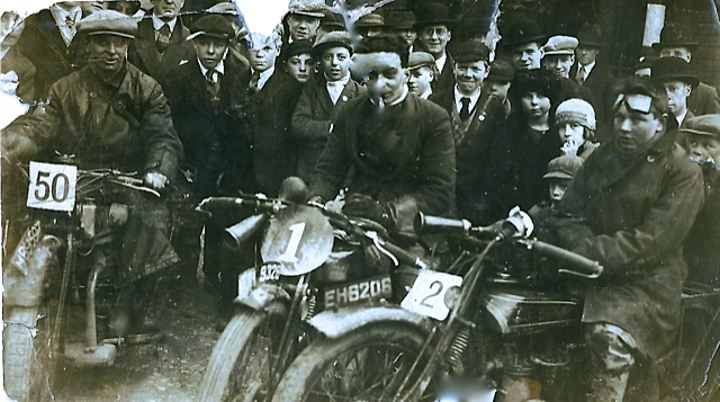 Burslem Motor Club

Frank Lycett at a Burslem Motor Club event
c.1920-30's
Photos courtesy of Michael Lycett
---