---
Fountain Place is a small area in Burslem town at the junction of St. Johns Square, Newcastle Street, Market Place and Westport Road.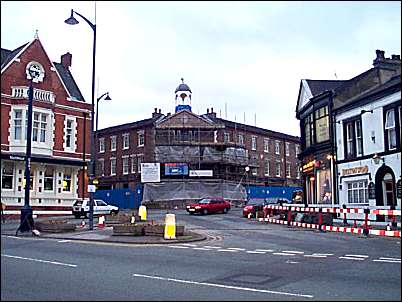 Fountain Place showing the conversion of the old Wood's Fountain Place Works into flats.
National Westminster Bank on the left.
The road in the foreground is Newcastle Street (leftwards) and Market Place (rightwards). To the left of the Fountain Place Works is Packhorse Lane and to the right Westport Road.

Enoch Wood's Works in 1840


on Enoch Wood
---
From "A descriptive account of The Potteries (illustrated)
1893 advertising and trade journal. Page 59"
we know that Messrs. Goodwin and Davison, Earthenware Manufacturers,
operated from the Fountain Place Pottery, Burslem - they must have occupied part of the works which belonged to the now defunct Enoch Wood factory.

on the journal entry for Goodwin & Davidson
---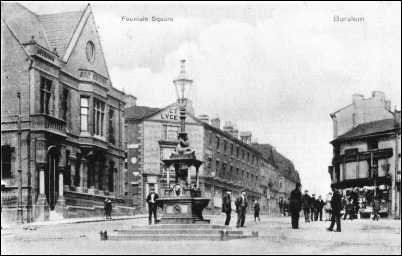 Old postcard of Fountain Place (although the card says 'Square')
This picture was taken from St. Johns Square - the fountain was at onetime removed to the Stoke-on-Trent museum in Hanley but in the late 1990's was restored and returned to the top of St. Johns Square.
Photo date: around 1905

On the left is the Manchester and Liverpool District Bank
Directly behind the fountain can be seen Lycett's Blinds Warehouse. Originally this formed part of Enoch Wood's very large Fountain Place Pottery Works, built in 1789.
---

The fountain - donated by Enoch Wood
behind is the Duke William Public House
---

photos: 2000