Market Place, in the centre of Burslem town runs from Newcastle Street to Moorland Road. It is an ancient street and can be seen on an early 19thC copy of a map of Burslem c1720, showing potworks scattered around the ancient settlement; and also a map copied from a plan taken about the year of 1740 by William Heaton.
At the Newcastle Street end St. Johns Square; Westport Road and Fountain Place all run off Market Place.
At the Moorland Road end Wedgwood Place, Wedgwood Street and Swan Square run off Market Place.
There are six listed buildings in Market Place including 4 shop premises, the Leopard Inn and Burslem's old Town Hall
---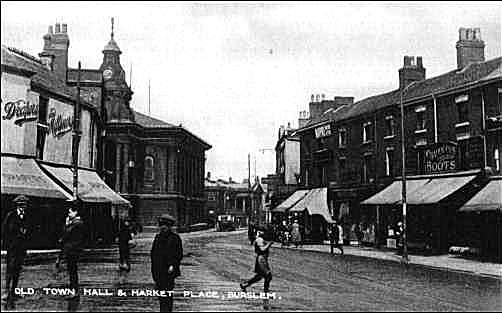 Postcard of Market Place
On the left a Milliners and Drapers. In the centre background is the Old Town Hall and immediately behind it the old meat market.
On the right is Craddocks boot shop with the blinds, next door Mellors grocery, Davenports tobacconist, Home and Colonial and Brigg's shoes.
This postcard dates sometime after 1911 when Burslem's third and last town hall was built. It is a view from the Newcastle Street end of Market Place.
Market place continues both sides of the old Town Hall
---
A descriptive account of The Potteries (illustrated)
1893 advertising and trade journal.
tells us that: 'Mr. William Bates, Tailor and Outfitter', occupied 23, Market Place Burslem.


on William Bates

Mr. T. Marston, Watchmaker and Jeweller occupied 23a Market Place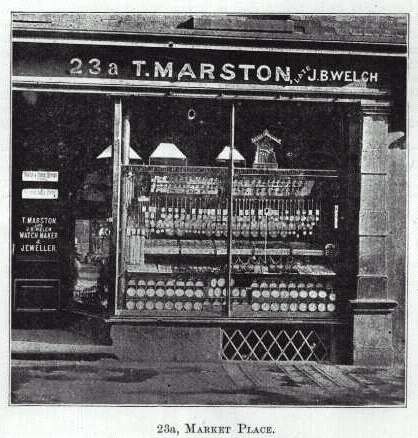 1893 photo

on T. Marston
---