New Street, Burslem, Stoke-on-Trent



Streets of Stoke-on-Trent | New Street |
---


| Index of all Burslem Streets |
New Street, Burslem, Stoke-on-Trent
---
New Street is in Burslem town centre - it is a short street running from Wedgwood Place (at the edge of Market Place) to Greenhead Street (which used to be High Street).
From "A descriptive account of The Potteries (illustrated)
1893 advertising and trade journal. Page 54" we know that Messrs. John Maddock and Sons, New Street Pottery, Burslem operated a pottery in New Street.


on the journal entry for Maddock
---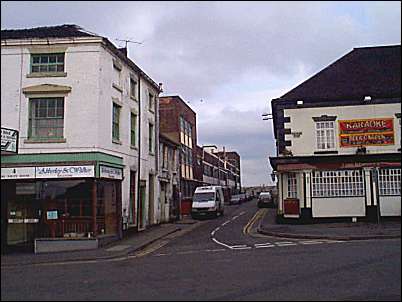 View along New Street (taken from Wedgwood Place)
The pottery works of Sadler's can be seen on the left of New Street
photo: 2000
Information on Sadler's pottery
---

---
Did you live in this street or area?
questions/comments/contributions? email: Steve Birks