Broad Street, Hanley, Stoke-on-Trent



Streets of Stoke-on-Trent | Broad Street |
---


| Index of all Hanley Streets |
Broad Street, Hanley, Stoke-on-Trent
Note that originally this was High Street, Shelton (certainly in 1843) by the time of the OS map in 1898 the street had been re-named 'Broad Street' - presumably to prevent confusion with the High Street in the north of Hanley, which led to Sneyd Green.

Broad Street runs from the bottom of Piccadilly in the centre of Hanley and joins Snow Hill near St. Marks Church in Shelton. Halfway down its length Broad Street now has a roundabout which joins it to Hanley's ring road "The Potteries Way". It is the main route to Stoke via Howard Place and Stoke Road - on the 1898 OS map the tramway can be seen.
Pottery Works in Broad Street:
From 1887 Lancaster & Baker operated the Shelton Works in Broad Street.

The Bell and Phoenix Pottery Works of Clementson Bros was located on the junction of Broad Street and Bethesda Street - The Potteries Museum stands on this site now. see 1893 article on Bell & Phoenix Works

The Broad Street works was one of the longest established works which was originally operated in the late 1700's by the Baddeley brothers and known from 1868 onwards as 'Mason's Ironstone China'

Cartlidge & Matthias operated the Chelsea Works, just off Broad Street.

At the Snow Hill end of Broad Street, opposite the Shelton Church St. Marks was the Victoria Pottery Works.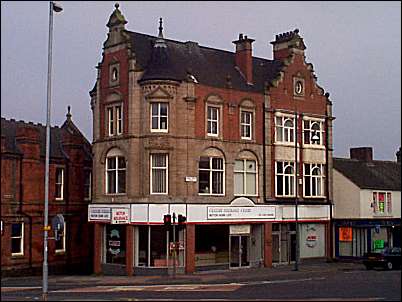 Coles house & shop in Broad Street, Hanley; on the corner of Marsh Street
Samuel Cole was the owner of the Falcon Glass Works, Norfolk Street, Cauldon
It was first mentioned in the local trade directories for 1851 and ceased
trading in 1907.
Photo: 1999
---
Picture of 95 Broad Street taken around 1900 when it was owned by the great grandparents of Steve Delves. The name over the hardware shop is the family name "Delves"
In the 1881 Census the Delves family lived at number 68 Broad Street and Jesse was a furniture dealer. At that time the owner of 95 Broad Street was Thomas Potts who was a Cabinet Maker.
1881 census:
Dwelling: 68 Broad St
Census Place: (Stoke Upon Trent) Shelton, Staffordshire, England
| | | | | |
| --- | --- | --- | --- | --- |
| Name | Marr | Age | Sex | | Birthplace | Occupation |
| Jesse DELVES | M 31 M | Head | Newcastle | Furniture Dealer |
| Ellen DELVES | M 33 F | Wife | Hanley | |
| Frederick DELVES | 12 M | Son | Hanley | Scholar |
| Henry B. DELVES | 10 M | Son | Hanley | Scholar |
| Arthur DELVES | 6 M | Son | Hanley | Scholar |
| John DELVES | 8 M | Son | Hanley | Scholar |

Dwelling: 95 Broad St
Census Place: (Stoke Upon Trent) Shelton, Staffordshire, England
| | | | | |
| --- | --- | --- | --- | --- |
| Name | Marr | Age | Sex | | Birthplace | Occupation |
| Thomas POTTS | M 66 M | Head | Hanley | Cabinet Maker |
| Martha POTTS | M 55 F | Wife | Macclesfield, Cheshire | |
| Arthur I. POTTS | U 21 M | Son | Hanley | Shopman |
| Ann I. POTTS | U 18 F | Daur | Hanley | Burnisher In Earthenware Manufactory |
| Martha L. POTTS | 14 F | Daur | Stoke | |
---

---
Did you live in this street or area?
questions/comments/contributions? email: Steve Birks
updated: 30 June 2002