No 104 - The Empire Theatre, Longton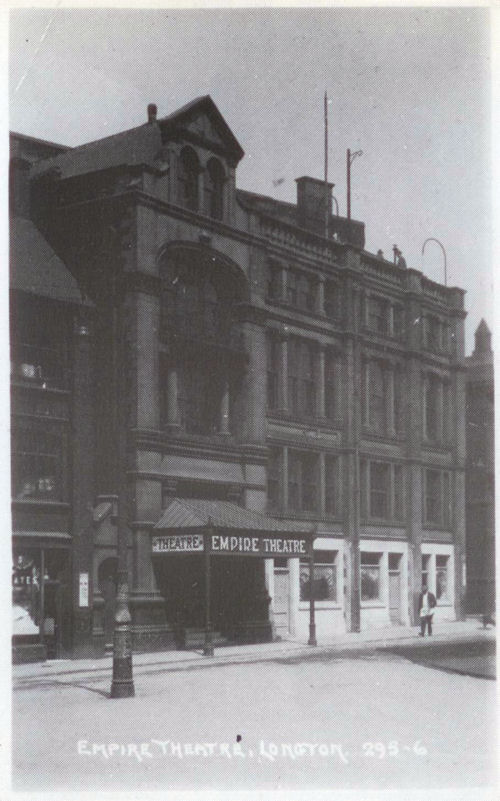 Postcard of the Empire Theatre, Commerce Street, Longton - c.1910's
---
QUEEN'S THEATRE.
This Theatre stands on the site of the old Theatre, which was completely demolished by fire in 1894. The present building was opened in 1896.

Seating capacity, 3,000.
Proprietors The New Longton Theatre, Ltd.
General
Manager, Sheriff Howard

from: 1907 Staffordshire Sentinel 'Business Reference Guide to The Potteries, Newcastle & District'
---
Built as the Queen's Theatre in 1896 after a fire in 1894 had destroyed the previous building, later renamed the Empire Theatre.
In 1919 the pottery company Cartwright & Edwards bought the Empire Theatre. William Hall the Managing Director of Cartwright & Edwards became M.D. of the theatre.
"...his public spirited control of that house of entertainment will be well remembered. He determined to let the people of Longton have an opportunity of seeing and hearing the best fare obtainable.

He was faced with numerous difficulties, and not least among these was the fact that the theatre at the time had not a very high reputation among the best producers.

Although it was an ideal building in every way - one of the prettiest, most comfortable and best appointed in the provinces - the managers of the best touring companies were reluctant to include it on their lists, fearing that it would not get sufficient support to make a visit worth while.

Mr. Hall overcame this by making a definite guarantee, and some of the finest companies, including Henry Baynton and his Shakespearian players, the O'Mara and Allington-Charsley opera companies, and first-class dramatic and comedy productions were engaged.

Unfortunately, the support forthcoming did not justify the enterprise, largely through the ever-increasing popularity of the cinematograph, and the Empire Theatre for the time being has become a picture house"

The Staffordshire Sentinel, 11 June 1923
It was a theatre until 1921, when it was converted into a cinema. It closed as a cinema in April 1966 it was converted into a bingo hall.
The building had stood empty and boarded up for a number of years and a fire on New Years Eve, 1992 destroyed the building apart from the frontage.
Attempts were later made to save the frontage of the building, with a view to incorporating it into another building, but the plans came to nothing and this was eventually demolished in 1997.