back to "The Grand Tour" index
Neville Malkin's "Grand Tour" of the Potteries
buildings in Longton





next: The Old Longton High School
previous: The Empire Theatre, Longton
contents: index of buildings in Longton
No 105 - The Sutherland Institute, Longton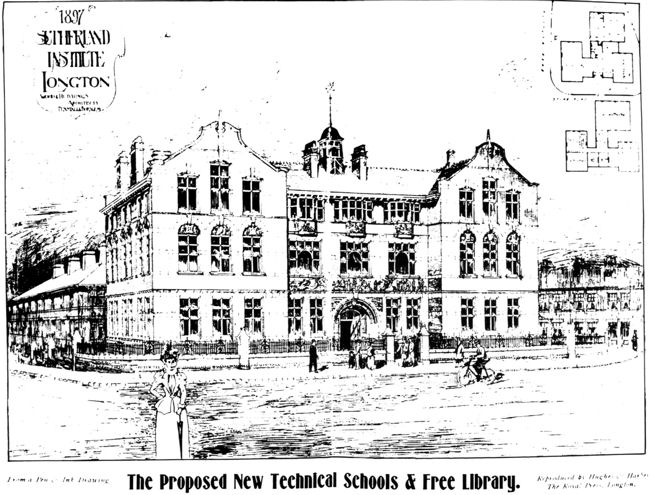 The Proposed New Technical Schools & Free Library
1897 Sutherland Institute, Longton
print of an architects drawing - supplied by: Phil Rowley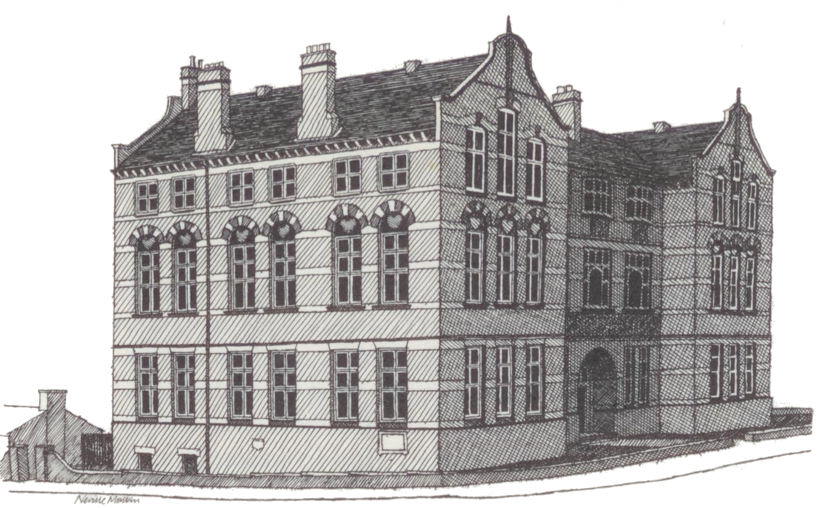 The Sutherland Institute, Longton
pen drawing by Neville Malkin - November 1974

Sutherland Institute, Longton
Completed in 1898 on land donated by the Duke of Sutherland who lived at nearby Trentham Hall.
The building is now one of Stoke on Trent's libraries and also houses the Hothouse Project to help fledgling businesses
photo: Feb 2006 © Copyright Phil Eptlett and licensed for reuse under this Creative Commons Licence.

"This large and impressive building, at the southern end of the Strand, Longton, is the Sutherland Institute and Free Library, which, in its earlier days, was often referred to as Longton's Temple of Learning.
The whole concept was the brainchild of the Duke of Sutherland, who, as Mayor of Longton in 1896, made a visit to the existing library which was unsuitably housed in the old Athenaeum building. While there, he realised the need for new and larger premises. The experience obviously inspired the Duke, for very shortly afterwards he made a gift to the town of a convenient site for a new library and technical school.
On February 7th, 1897, the idea materialised when the foundation stone was laid by the Prince of Wales.
On October 27th, 1899, the building was officially opened by the Duke of Sutherland.

Among the many guests at the ceremony were the American Ambassador, and a party of the Duke's friends from Trentham Hall. The architects commissioned were Wood and Hutchins, and the building they designed was in the Renaissance style.
The symmetrical structure was built mainly from red brick with yellow terracotta embellishments; the total cost was in the region of £10,000.

Across the centre, above the ground floor, a frieze of terracotta relief illustrating the pottery industry was added a little later, in 1908-9.
The large studios on the upper floors have been used continuously for art education since 1901, when art classes were removed from nearby Longton High School."

---




next: The Old Longton High School
previous: The Empire Theatre, Longton
contents: index of buildings in Longton
---