Normacot Road, Longton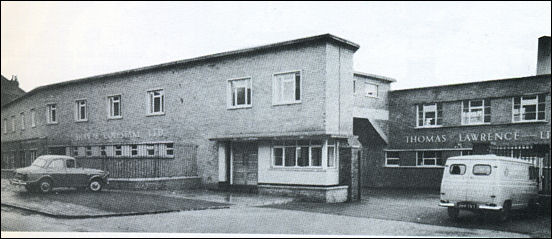 Shaw & Copestake Ltd and Thomas Lawrence Ltd in 1962
Following the voluntary liquidation of Shaw and Copestake in 1982 the factory and contents were bought by the North Midlands Co-Operative Society and from there they leased it to a workers co-operative society called Longton Ceramics.
A year and a half later the United Co-Operative society took over and ran it as the Crown Windsor name. This was not a successful venture and only managed five months of production before liquidation.
The premises was bought by Portmeirion Potteries Ltd around 1990 who began to operate there.

The same buildings in June 2008
the offices at the end with the green sign is called the "Sylvac Centre", they sell Sylvac ware which continues to be very collectable.
---

Shaw & Copestake Advert

the very first Shaw & Copestake advertisement which appeared in the Pottery Gazette on June 1st 1904



---


Shaw & Copestake Sylvan Works (originally the Drury Works)
26 September 1960

This photo taken from Gower Street, Normacot Street is running left to right. At the left is the Sealion pub on the corner of Chadwick Street (the Spiritualist Church is now on the site of the pub) - on the far right is St. James Street.

The original Shaw & Copestake factory, shown in this picture, was opposite the new factory which is still standing.

photo: Lovatt Collection


---

Shaw and Copestake were a manufacturer of fancy earthenware at Normacot Road, Longton from 1894 to May 1982

Early ware was unmarked. "SylvaC" was a trade name often used by Shaw & Copestake, it was not until c.1937 that the name "SylvaC" was impressed on the bottom of the ware but it was very haphazard and much ware was unmarked.



SYLVAC RASPBERRY FACE POT,
WITH IMPRESSED SYLVAC 4898


Cute looking terriers
SylvaC Made In England



c.1937-40
printed modified 'daisy' mark - with the trade mark "SylvaC"
The name "SylvaC" seems to have been registered in 1938


next: Longton Colour Works
previous: Longton Spiritualist Church