A photo walk around Fenton, Stoke-on-Trent

Fenton Cemetery
location 24 on the map |tour map|




next: Buckley Farm
previous: Spoil heaps TV masts and more walkways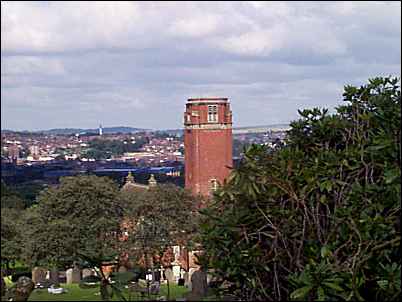 through the trees to the right is the tower of Fenton Cemetery
photos: July 2000
Fenton cemetery was laid out in 1887 on a 16.5 acre site in the north-east of the town, on sloping ground at the rear of Fenton Park.
The cemetery buildings were typical of those in other local cemeteries, with two chapels - one for the established (Church of England) church and the other for non-conformists.

The Fenton cemetery chapel was demolished, amidst opposition from local residents, in August 2001.


---




next: Buckley Farm
previous: Spoil heaps TV masts and more walkways