the monks of Hulton Abbey & Rushton




click the "contents" button to get back to the main index
next: Burslem Cemetery
previous: the monks and Sneyd Green
Historian Fred Hughes writes....
The path taken by the monks on their journey from Hulton Abbey to their farmlands at Rushton travelled via Sneyd Street and crossed into what is now the Cobridge Grange council estate.
"In 1794 there was a lively community in Sneyd Street which by 1851 numbered 467 living in 91 cottages," says historian Steve Birks. "Most of this centre of population lay west from an inn known as the Old King and Queen. Nearby was a small farm occupied by a Methodist family who's most notable member was the poet Noah Heath; from here it descended onto the shelf of land then called Rushton."
Cobridge was the end of the line for the Hulton monks. This was their farmland stretching from its borders with Shelton to St John's Church in Burslem.
"We don't know the extent of their holdings because it was dispersed during the period of the Dissolution of the Monasteries between 1536 and 1541. What we do know is that for 300 years the monks from Hulton Abbey had a substantial farmhouse and outbuildings here. There is also no doubt that Rushton was the earliest centre of the Catholic faith," says Steve.

Yates 1775 map showing the position of Rushton Grange
It's worth a closer look to see how this evolved.
"When the monks were driven away their Cobridge land was given to James Leveson who sold to the Biddulph family," Steve responds. "Later many further bits were sold-off; in fact Josiah Wedgwood bought the Ridge House land where his mansion now forms part of the Moat House Hotel. Most of Cobridge was later owned by the Barony of Camoy when Thomas Stonor married into the Biddulph family."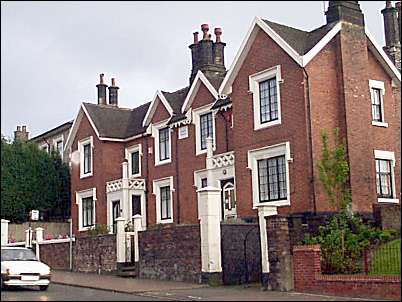 Camoys Terrace
Numbers 184-186 Waterloo Road

The Biddulphs supported the Catholic royalists during the civil war and their home, Biddulph Hall, was all but destroyed by Cromwell's cannon 'Roaring Meg' in 1644. Although the family survived, bad luck followed them after they returned to live at Rushton Grange in 1647. It was the year plague came to decimate Burslem.
"The Biddulph's maid Kate was said to have been its source. And it was Kate and the Biddulph children who were the first to die," Steve continues. "Many townsfolk succumbed. But consecrated interment in St John's churchyard was refused and so they were buried in mass graves on Grange fields. Apparently Kate had a lovely singing voice. Legend has it that her ghostly songs could be heard from the Grange graves which locals called Singing Kate's Holes."
The ancient monk's path runs alongside St Peter's Catholic School in Cobridge where Karen Barber and Andrea Nicholls work in reception.
"We held a competition about two years ago to give the unnamed footpath a name," recalls Andrea. "It was won by our pupil, Alex Brown, who called it Shepherd's Way. It's not been adopted but we think it's a lovely name."
I relate the story of Singing Kate which stirs something in Karen's memory.
"Do you know," she says, "I've often had a feeling of a presence at the far end of the school whenever I have to go there. I can't explain it."
Nearby is the Anglican Christ Church, ministered by Rev Rod Clark.

"You can feel a historic presence in Cobridge," he asserts. "But the religious connection has changed. In five years my congregation has held steady. But we're living in a time of transition for all churches. Clearly many are no longer fit for the purpose they were built. Churches now have to fit their community."
This is certainly true for the Catholic Mother Church of Stoke on Trent, St Peter's. Kathleen and Bill Durose are Eucharist ministers at St Peter's.
"We love St Peter's but sadly it is on the list for closure," says Kathleen, a position confirmed by Father Amalados, the parish priest who has served Cobridge Catholics since 2000.
"The cause is Cobridge's changing community," he says. "Where once the Victorian population chose to live here to be near the church of their faith, now almost the entire community is of Muslin faith."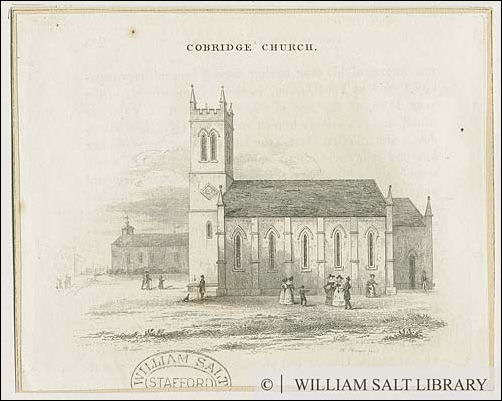 The Anglican Christ Church in Cobridge with
the Catholic St. Peters in the background
© William Salt Library, Staffordshire County Council

---
Parishioner Tom Smith is 90. He is St Peter's oldest member and was has lived in Cobridge all his life.
"There's so much history attached to St Peter's," he says. It will be a great pity to see it end. This is the oldest Catholic parish in the city in direct line from the Hulton monks. Our church marked the Catholic revival in Stoke on Trent in 1780 and Irish immigration boosted its popularity and congregation until by 1850 it numbered 1,350. But this was diminished when two-thirds moved to the new large church at Hanley. In 1822 a group of Portuguese nuns opened a convent in Elder Road. In 1903 they built St Augustine's Home in Cobridge Road and became known as the Little Sisters of the Poor. The home closed in 1998 and two years ago it was demolished."
Yes, Cobridge has witnessed more eventful times than anywhere else in the Potteries. Here the highway of religion has travelled an amazing route from 13th century French Cistercians to modern Islam. And like the path itself, its spiritual origins are becoming harder to locate.


more on Hulton Abbey & Rushton Grange