Examples of G L Ashworth Ware

[ Index of Ware ]
[ Ashworth Index ]

Marks on Ashworth ware

Ashworth, Imari-style 9" plate.
This is shown in the catalogue and on the cover of the 1880 Silber and Fleming.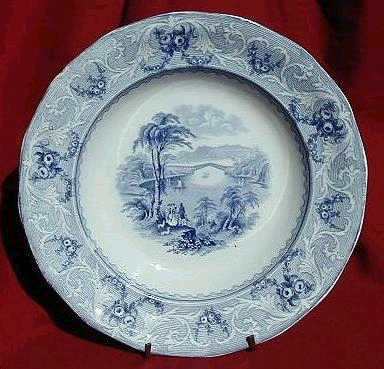 DESCRIPTION: Staffordshire blue and white transferware ironstone soup bowl in the LAKE pattern made by the ASHWORTH BROTHERS and/or FRANCIS MORLEY AND COMPANY beginning in the 1840s. Based on the mark, it is unclear to me whether this plate was manufactured before or after the two companies merged in 1859. According to the usual sources, the scenes in this pattern series are locations in Canada and are based on landscape engravings made by William Henry Bartlett. A center image of people and dogs in a landscape with a distinctive pointed bridge in the background. Marked on the back in blue transfer: LAKE with a small geometric figure and an image of a bridge.
DIMENSIONS: Approximately 10 and 1/2 inches in diameter.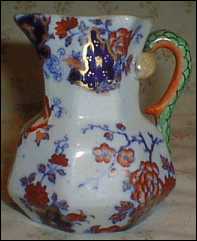 ASHWORTH BROTHERS IRONSTONE JUG
MAKERS MARK IMPRESSED ON THE BASE WHICH READS ASHWORTH BS IT AS A VERY PRETTY JAPPANED PATTERN WITH A SNAKE FOR A HANDLE HEIGHT = 3.75"


Prior to ice cream, berries were the dessert of choice. This is a wonderful and hard to find square berry bowl with an absolutely wonderful Mulberry design that includes a great looking bee or wasp. The bowl is 4 1/2" square and is made by G.L. Ashworth & Bros., Hanley, Staffordshire England.



[ Ashworth Index ]

questions/comments? email: steve birks