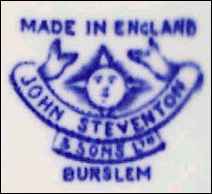 Early Steventon, Blue Willow plate. 10 1/2 inches in diameter and marked on the back, " Made in England John Steventon & Sons Burslem."

---

This covered vegetable dish has a blue transfer pattern first used in the late 18th century - It measures 5-1/2" high by 11" long at thumb rests by 9-1/2" wide, the transfer entirely covering the surface on interior and exterior of dish and the exterior of lid.
the pattern but it has a center scene of an elephant and attendant in an oriental fantasy landscape.Transfer blue mark to underside: "Reproduction Rogers 1780, Made in England, John Steventon & Sons Ltd., Burslem."
---

Early 1900's Flow Blue charger in the Blue Willow pattern. It is 9-1/4 inches in diameter and 1 inch deep. The mark is: "Royal Venton Ware, John Steventon & Sons Ltd, Burslem England," and a crown.
---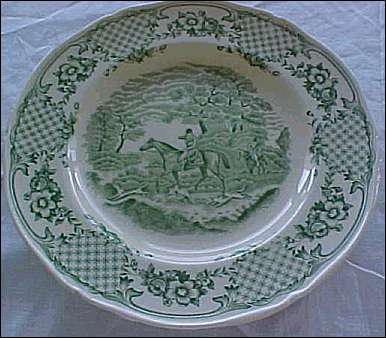 Measures 9" dia
MARKED BOTTOM WITH A CROWN, Royal Venton Ware Est 1897 John Steventon & Sons Ltd. Burslem,England
---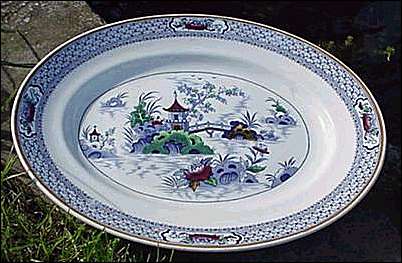 Oval Oriental 14" Meat Plate. This is a blue and white underglaze with red yellow and green overglaze of an oriental lake scene. It measures 14" by 11". The printed mark on the base is "KATO, ROYAL VENTON WARE, JOHN STEVENTON & SONS LTD, BURSLEM, ENGLAND".
---