| | |
| --- | --- |
| Birks, Rawlins & Co (Ltd) | |
Location and period of operation:
| | | | |
| --- | --- | --- | --- |
| Birks, Rawlins & Co | Stoke | 1900 | 1933 |
China manufacturer at the Vine Pottery, Stoke, Stoke-on-Trent.

Previously: L A Birks & Co.

The Vine Pottery was founded by Lawrence Arthur Birks and Charles Frederick Goodfellow in Stoke-upon-Trent in 1894.

Beginning with small scale production of fine bone china tableware, the company fortunes were transformed in 1901 when Edmund G. Reuter was employed as designer. He introduced an ivory porcelain with middle eastern decoration known as 'Persindo Porcelain'.

Many new designers were then attracted to the firm resulting in numerous international awards and even royal patronage from Queen Mary.

in 1907 Birks, Rawlins & Co. were listed as "China and Savoy Heraldic China Manufacturers"

Troubled times in the 1920s after the National Strike and the Wall Street Crash led ultimately to financial difficulty and by 1928 the business had been aquired by Wiltshaw & Robinson of the at the Carlton Works in Copeland Street, Stoke.

Attempts were made to improve the fortunes of Birks, Rawlins & Co - a new mark 'The Original Birks China' was introduced in 1928 along with a new formulation together with the 'Carlton' trade name.

The attempts to revive the business was unsucessful and it was soon merged with Wiltshaw & Robinson at the Carlton Works, and the Vine Pottery closed in 1933.
---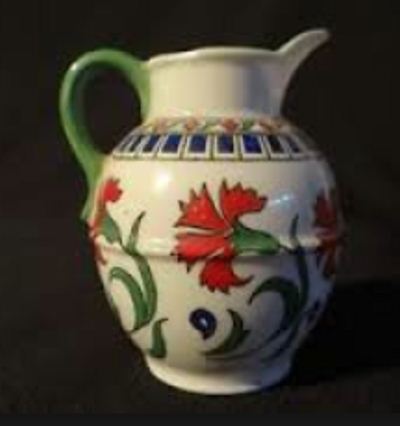 Jug in 'Persindo Porcelain'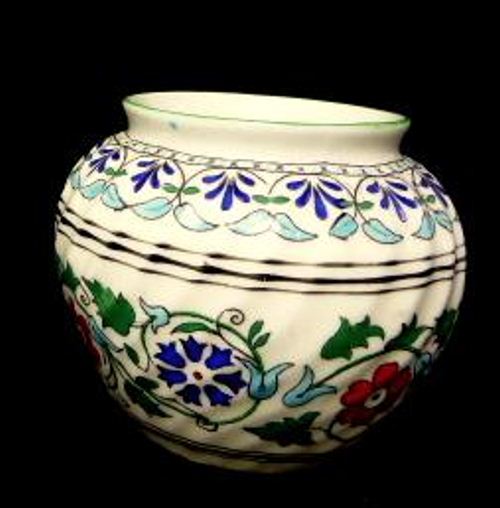 bowl in the ivory porcelain known as 'Persindo Porcelain'
---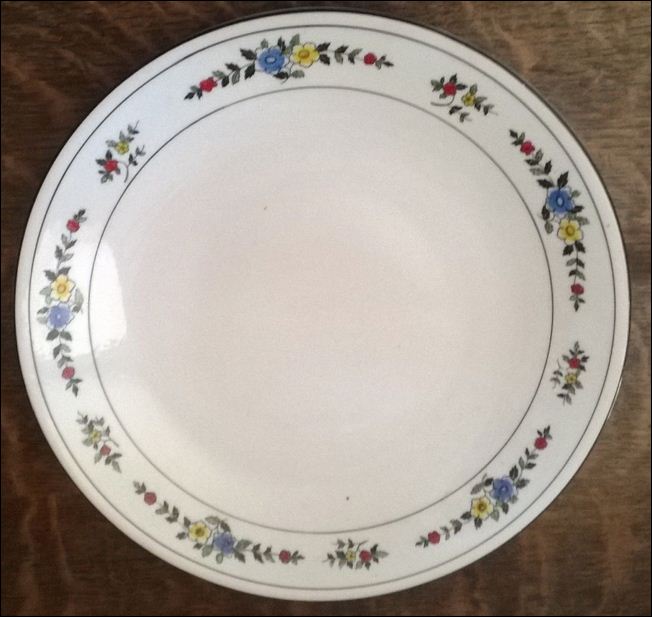 every-day plate by Birks, Rawlins & Co
---

stylish contemporary trio
---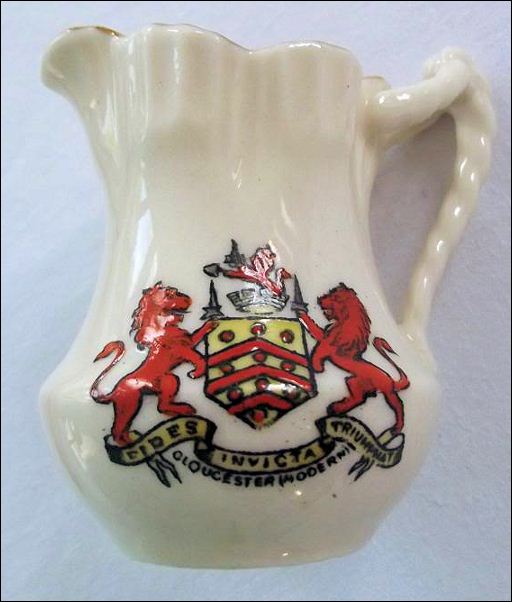 Savoy Crest China
This crested ware became very popular for a period.
Savoy Crest China was intended to compete with the successful business of W. H. Goss.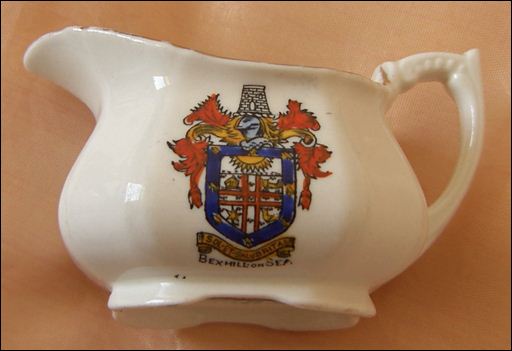 in 1907 Birks, Rawlins & Co. were listed as
"China and Savoy Heraldic China Manufacturers"

---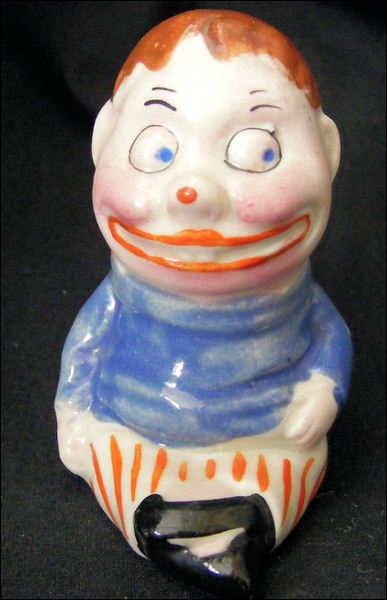 small novelty figures were produced for sale at
the seaside and other tourist areas
mark: Birks Rawlins & Co Stoke-on-Trent
along with a vine leaf and cluster of grapes
---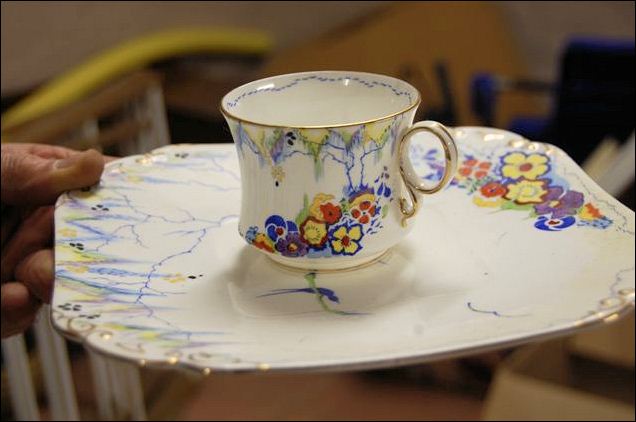 cup and plate in the 'Springtime' pattern
introduced in 1930
Springtime was first advertised the Pottery Gazette in June 1930 withthe accompanying text:
"Improvements have been made to the body of the china to bring it up to the exacting demands of present-day standards.

This much having been done, it has now been decided to alter the trade mark of the productions of the Vine Pottery, which are henceforth to be back-stamped 'Carlton China'"
---

plate bearing the mark...
The Original
Birks China
1895-1928
Stoke on Trent
Made in England.
---

this tea set (all of the same pattern) carries two marks
some pieces are marked 'Savoy China' and some 'Carlton Ware'
---
Initials & Marks used on ware for identification:
B R & CO
BIRKS RAWLINS & Co
---
Trade names:
PERSINDO PORCELAIN
SAVOY CHINA
(introduced c.1910)
ROSEATE PORCELAIN
(introduced c.1917)
CARLTON CHINA
(introduced c.1928)
---
---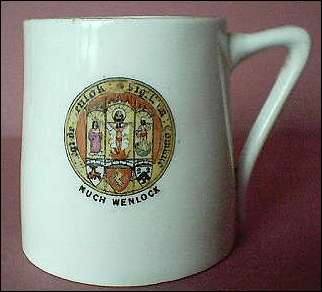 Porcelain crested ware mug, made in England by
Birks, Rawlins & Co (Ltd).
It bears the crest of Much Wenlock, which contains
an image of a stained glass church window.

Height approx. 2.75 inches / diameter at base approx. 2.75 inches.



back mark on the above mug
---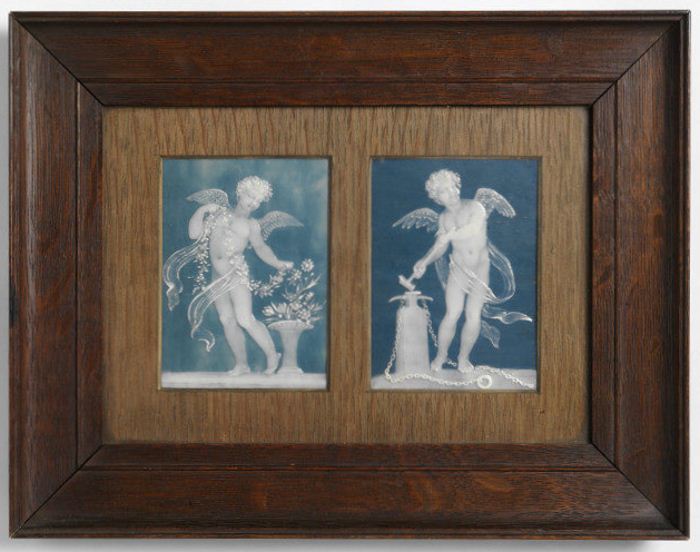 Porcelain and pâte-sur-pâte by Lawrence Birks
c.1920
in the collection of the V&A
Pâte-sur-pâte literally means 'paste on paste' and involves the laborious method of imposing liquid porcelain onto a porcelain body freehand, in a process of building up numerous layers that are then chiselled and brushed back to form a sculpted multi-layered effect. The finished piece is then fired and the result is an exquisite translucent glass-like form on the vessel with very fine detail.
In France pâte-sur-pâte was developed by the Sčvres porcelain factory whilst, in England, Minton employed the technique to great success.
Lawrence Arthur Birks worked 22 years for Minton, apprenticed to the great pâte-sur-pâte artist Louis Marc Emmanuel Solon.
He left Minton in 1894 establishing L. A. Birks & Co.; 1900 Birks Rawlins & Co., The Vine Pottery, off London Road, Stoke-on-Trent.
The pottery mainly produced fine bone china tablewares, but Birks continued to produce pâte-sur-pâte when production allowed. This work required a high level of skill and Birks's pieces were described by the Pottery Gazette in 1902 as examples of the most difficult class of fine art ceramics comparable to the wares produced by Solon.
---
questions/comments/contributions? email: Steve Birks
---