| | |
| --- | --- |
| T Lawrence (Thomas, Longton Ltd) | |
Location and period of operation:
T Lawrence
(Thomas, Longton Ltd)

Longton

1885

1964
The Falcon Pottery was founded in 1885 by Thomas Lawrence, the original site being on the corner of Wharf Street, Stoke. (The Trent Bridge Pottery).

Ten years later he erected the Falcon works in Waterloo Street, Longton. In the same year (1895) he took into partnership his nephew, John Grundy who, on the death of the founder in 1932 became the sole proprietor.

In 1938 the directors of Shaw & Copestake acquired the company 'Thomas Lawrence' and the name was changed to 'Thomas Lawrence (Longton) Limited'.

Until a suitable factory was built on land opposite the old Shaw and Copestake the two companies operated independently for nineteen years. In 1957 new works were opened at Normacot Road, Longton. At this time 140 people were employed.
---
Initials and names used on ware for identification:
FALCON WARE
---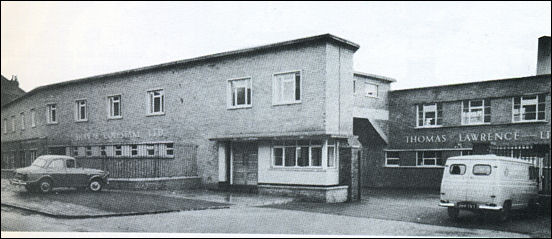 the new Sylvan Works in Normacot Road, Longton
opened in 1957
to the left is the works of Shaw & Copestake and to the right is Thomas Lawrence
---
click for more information >>>>
---
email: Steve Birks
related links...
---
Shaw & Copestake - The Sylvan Works were founded in 1894 by William Shaw and his uncle William Copestake.
Normacot Road, Longton - Normacot Road was once an important thoroughfare from Normacot to Longton Town, it was lined with many potworks and terrace houses.
Longton - one of the Six Towns of the City of Stoke-on-Trent
---