The growth of the coking plant:
In 1896 the original ovens were replaced by 124 new beehive ovens - now nearly all the coal mined was now used for coke which the Heath's were using in their ironworks.
---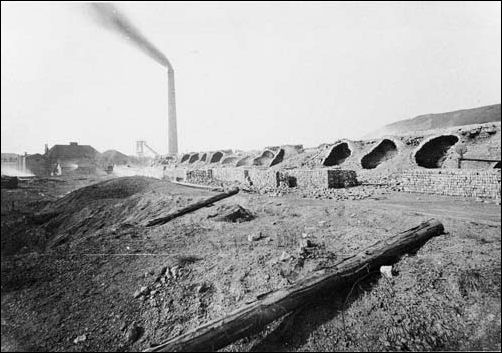 Birchenwood Beehive coking ovens - 1911
A view of the coking ovens at Birchenwood, called Beehive ovens for their obvious likeness to Beehives. In this picture the ovens are being demolished, having been replaced in 1909.
photo: ©Borough Museum and Art Gallery, Newcastle under Lyme;
Miss Barnard, Staffordshire Past Track
---
Over the next few years they would invest a staggering one million pounds in building what was to become the leading coke/by-products plants in the country.
New ovens were added, a rail network built to link all of the sites, locomotives to transport the coal and coke, and houses for their employees were just some of things that contributed to a very prosperous partnership between the Heath's and Birchenwood.
---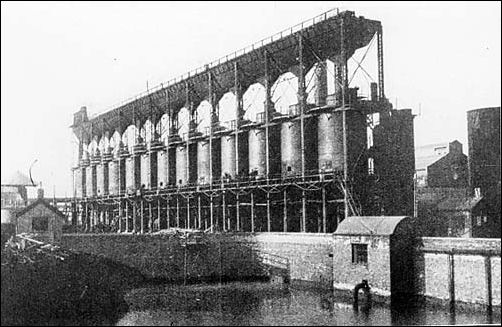 In 1909 a range of 13 Mond gas producers were installed at Birchenwood

"Before Natural Gas was discovered, Town Gas produced from coal was used. The process consisted of heating coal in enclosed retorts, where the gases were led through pipes and treated in a variety of ways.

Coke was the main by-product of gas production, along with a huge variety of other by-products, including coal tar, benzol, pitch, creosote, nylon, solvents for paints and varnish."
photo: © Keele University - William Jack Collection
Staffordshire Past Track

---
The industrial advances meant that there were now more uses for the by-products from the coking process and a special recovery plant with 84 ovens was built in 1909, this was followed by gas producers in 1910 and the replacement of the now outdated beehive ovens in 1912 with 72 Carl Still type ovens.