Railways of Stoke-on-Trent - Potteries Loop Line


Navigate by the section headings below,
or use the "next" "previous" buttons, or if you get lost use the "index page"

Index page for the Loop Line
Introduction | Etruria to Hanley | Cobridge to Burslem | Tunstall
Pits Hill to Goldenhill | Kidsgrove
Potteries Loop Line


next: Completion of the loop line
previous: Cobridge Station


Hanley to Etruria
On the loop line between its junction with the main line and Cobridge were the stations at Etruria and Hanley later on a station was built on Waterloo Road.

Route of the Loop Line through Etruria and Hanley - 1902 map
The stations at Etruria, Hanley and Waterloo Road can be seen before the line disappears in the tunnel at Cobridge.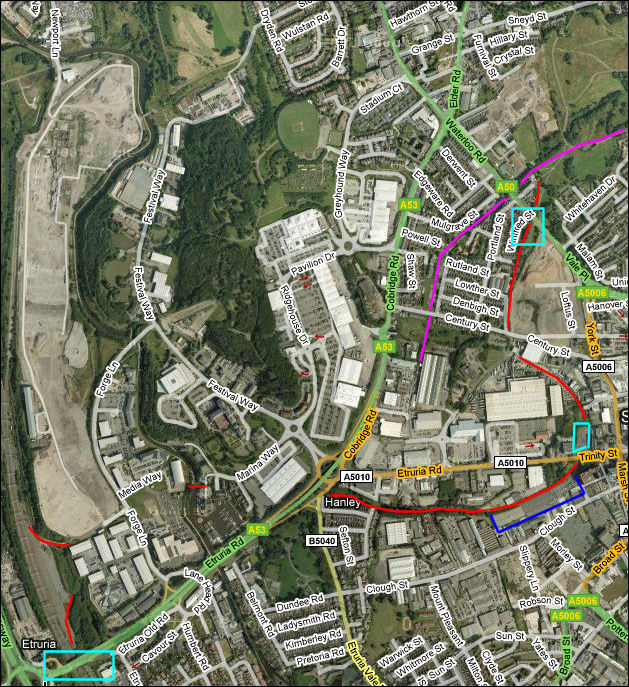 remnants of the Loop Line through Etruria and Hanley - 2008
[Google maps]
The route of the loop line from Kidsgrove to Cobridge is well preserved as greenways and walkways. However in Etruria and Hanley developments have removed or obscured much of the line.
The light blue shapes show the location of Etruria, Hanley and Waterloo Road stations. The blue shape (Clough Street car park) was the location of sidings and goods sheds at Hanley.
The red line is the parts of the loop line which can be traced today and the purple line is the remains of the route of a mineral line which took coal from Hanley deep pit to the coking ovens at Shelton Iron & Steel Works.



next: Completion of the loop line
previous: Cobridge Station