The Pegasus Cycling Club

The Pegasus Cycling Club

1890-1899

1890

Aug 4th
Rudyard
18 miles.

Ride very uneventful. Enjoyed myself very much roaming around woods (save the mark) and lake did a slight rush back.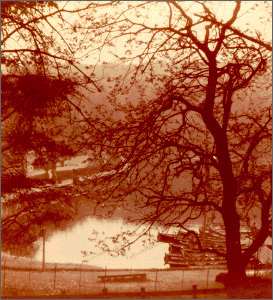 Corner of Rudyard Lake - early 1900's
Rudyard lake was an extremely popular tourist attraction at the turn of the last century, and as such became known as the "Blackpool of the Potteries".

Rudyard Kipling, the famous author, was named after Rudyard Lake.

on Rudyard Lake



Aug 8th
Knutsford & Northwich
51 miles.

A grand spin to Northwich, where I fell in with an invalided sailor, who piloted me round the town, and a queer place it is, houses sloping at alarming angles, owing to salt mines.
We also wandered a few miles up the "Weaver". The only drawback was that I had to be contented with a few penn'orth of gingerbread for dinner so felt rather weak returning.
Rock Salt Mines, Northwich
abandoned mines still lay under the northern part of Northwich, their roofs supported by pillars of rock salt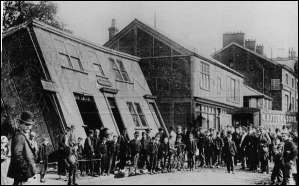 Offices on Castle Street, Northwich, leaning backwards and almost toppling over as a result of subsidence.
photo: www.saltmuseum.org.uk.
Aug 30th
Darlaston
20 miles

The only incident worthy of notice during this ride was the hole I dug in my shin, through slipping off the steps.

© 2005 - This page is subject to Copyright no part of it may be copied, published in print or on another Internet site without written permission.
Eileen Phillips & Teresa Davenport