The accounts of the Pegasus Cycling Club

The accounts of the Pegasus Cycling Club

1890-1899

as recorded by Ernest Davenport

Grammar, sense and wit conspicuous by their absence in the following more or less trustful chronicles...............

....... Cycle runs by E. Davenport and several other persons, members of that fearful and wonderful club, "The Pegasus" C.C. together with numerous and humorous adventures that befell the same members, hair-breadth escapes, acrobatic feats etc; etc; etc; ………

The practices were very enjoyable! The after-effects however were the reverse … stiff legs and arms, and excessive perspiration......

"Tried hard to root the tramlines up during a morning canter but got the worse of the bargain".
"Also rushed at a man, but only managed to sear his leg a bit".
"Scared a great number of people by my wondrous riding".
"Enjoyed myself very much in the early morn (5 a.m.) by taking trotting exercise doubled up behind Charles".
"Nearly ran into building, bottom of Sneyd Green".

click below for 1890 diary records.....

the following pictures give an idea of cycling in the North Staffordshire area in the 1890-1900's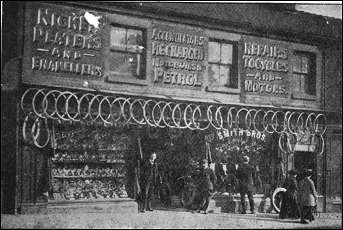 Smith Bros. Cycle Shop, Piccadily, Hanley c.1900

Stafford Cycling Club 1890 - 1900 (c.)
Source: Staffordshire Past Track - Staffordshire Arts & Museum Service ©

© 2005 - This page is subject to Copyright no part of it may be copied, published in print or on another Internet site without written permission.
Eileen Phillips & Teresa Davenport