Bridle Path, Dresden, Longton
Freehold land societies came into existence in the 1840s as part of a politically inspired movement, organised by Liberal radicals to effect Parliamentary reform. Both Longton and Burslem formed their own independent societies in 1850.
The Longton Freehold Land Society acquired its first estate in the middle of 1850, when, for £5,000, it bought Spratslade Farm, situated half a mile or so to the south of the town, from T. Fenton-Boughey and L. Armistead - this was laid out as the Dresden Estate.

Apart from the obvious names for some of the streets (e.g. Queen, after Queen Victoria; Albert, after her consort; Taylor after Rev James Taylor of Birmingham), most were called after either prominent national Liberals
— Richard Cobden M.P., founder of the Anti-Corn-Law League; Charles Pelham Villiers M.P. and John, 1st Earl Russell, M.P. and Prime Minister (1846-52)

— or leading local Liberals: John Ayshford Wise, of Clayton Hall, M.P. for Stafford and John Lewis Ricardo, M.P. for Stoke-upon-Trent.
---
When the society bought the land a bridle path leading from Longton to Trentham ran across the land. This was incorporated into the building plan as a pedestrian road between Belgrave Road and Ricardo Street.
Following this bridle path will take us on a walk through the history of British social reform politics.......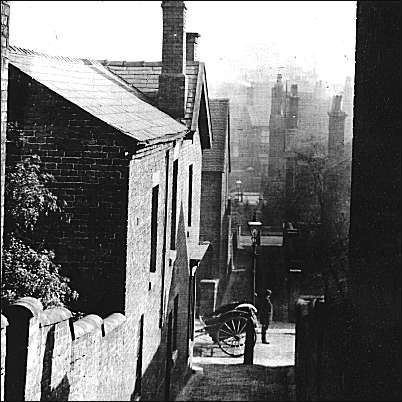 Dresden, the old bridal path - c.1900
A bridle path is a trail for horses, they frequently serve as hiking or walking trails as well.
Bridle paths were transport routes where the country was so steep that pack horses needed to be led by the bridle and the route was impassable by wheeled traffic.
---

An 1851 plan of the proposed layout of the Longton Freehold Land Society
the line of the pre-existing bridle path is shown in yellow - the estate was laid out to keep this path in use.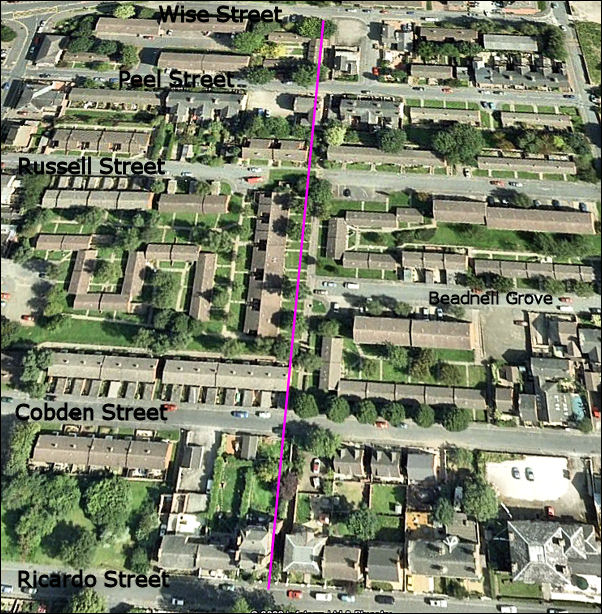 2008 'live earth' map showing that the line of the bridle path has been maintained even though many of the streets have been rebuilt and Villiers Street has been split in two and one half named Beadnell Grove.
The purple line is just to the left of the path, so the path can be seen.
---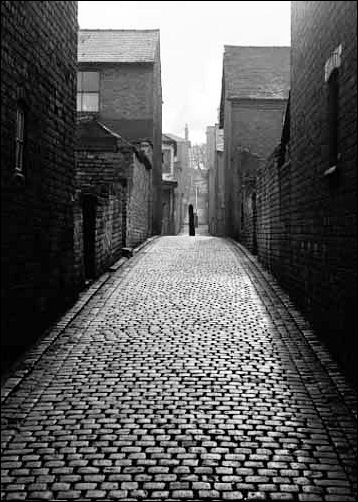 A view of the bridle path in 1967
the view is from Peel Street to Ricardo Street at the top