Back to St Jude's at the turn of the century. The old church became the Church Hall, and in 1902 a new room was built at its west end by Mr Godwin (builder) to replace two cottages in Beresford Street previously used as school rooms. The new building was to be become known as the Schoolroom, but in later years became the Church Hall when the old church became a theatre - the renowned Shelton Repertory Theatre. Shelton Rep. now occupies a site in Leek Road near to the University.
In 1902 at a meeting of the Annual Tea Committee, Mesdames Eason, Fuller, Pedley, Quick, Whittingham and Mason were present - all well known names in the Parish, and they or their next generation were well known to me as elderly ladies during the 1940's and 50's. Doris Eason especially as she had a grand St John Ambulance uniform.
In 1905 at the Vestry Meeting, a lavatory was proposed to be installed at the rear of the Schoolroom by Mr Umpetby (builder) at a cost of £25.
Rev. Spink's curate, Mr H. S. Stephenson resigned in 1905 and was replaced by Rev. J. Arthur Price. He may have been the last Curate.
The new Parsonage in Seaford Street was completed in 1907, a large multi-roomed, three storey mansion in miniature. Previously the Rector had lived at No 5 Ashford Street.
In 1908 Rev. Spink moved to Leek after 28 years in the Parish, and a moving tribute to him was expressed by the Parochial Church Council in the form of an Illuminated Address.
In 1909 Rev. Henry R. Coldham was appointed to the living and left in 1917.
In 1911 there was a sale of work at St Anthony'

s Row Mission Chapel in Newlands Street.
In 1918 Rev. Samuel H. Hare was appointed, but left in 1921
In 1924 Rev S. C. Stevens succeeded to the living, and in the mid-1930's was replaced by the Rev. James Taylor Birch.
In the early 1940's Rev. William Edge became vicar (it appears that the old title of Rector had fallen into disuse). He was an Oxford man, a keen sportsman and spent much time with the young people of the parish, either at the Anglican Young People's Association youth groups (Senior and Junior) in the Church Hall, or on outings at week-ends. Mr Douglas Twigg was his irascible but highly entertaining Organist and Choirmaster. Mrs Edge was a gentlewoman who kept a maid. There was a thriving Mothers' Union, and a Church of England Men's Society which the vicar and his wife oversaw. There was a choir of 14 boys and 6 men, with a full rota of servers for all services.

St. Jude's children's party 1949
In 1954 Rev. Edge moved to Hixon and was replaced by Rev. Broome from Holy Island, Northumberland, an austere, monkish man in the best traditions of St. Cuthbert, with a light brown voice (as described by a parishioner) and a pleasant wife with a talent for Geordie folk-songs.
1956 saw the arrival of Rev. Archibald Royston Lord - a flamboyant, larger-than-life character who swept into the Parish like a mischievous whirlwind. Rev. Edge had introduced priestly vestments for Eucharist (older people preferred Holy Communion) which raised eyebrows, but "The Lord", as the new man was irreverently called, introduced Mass, brighter and more ornate vestments, incense, bells, confession and all manner of very high church innovations. He was single, an ex-RAF chaplain, with Alfredo an Italian cook, Anna an Austrian housekeeper, and Geoff a companion also an ex-RAF type, who acted as his Personal Assistant, He also had several lodgers of varying degrees of eccentricity, and Karl a large black Labrador who slept on the Chancel steps during Divine Service.

St. Jude's Wardens and Sidesmen c.1956
The Lord kept open-house at the Vicarage, which was invariably full of the young people of the Parish. He had an explosive temper and was known to hit the Altar with his fist if the ritual was not carried out to his standards. At one time he suspended the AYPA for misconduct and apathy. His volatile and sometimes inconsistent influence was not universally accepted, and may have contributed to the waywardness of the younger generation. Rev. Lord left the parish during the 1ate 1960's and went to South Africa, from where he occasionally appealed for financial help for his work. He died there.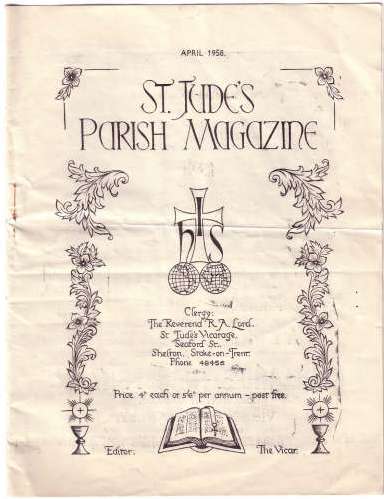 Cover of St. Jude's Parish magazine of April 1958

Photo of the Church and Rev R. A. Lord
The Rev. Bowdler was the last incumbent of the Parish, and was the one to oversee its demise owing to drastically reduced congregations. As previously mentioned, many of the younger people had moved away, and the older people were dying off. It was inevitable.
In May 1980 an Order in Council declared that St Judes, Hanley was redundant, and in November 1981 a further Order in Council authorised the demolition and sale of buildings and land ("not of such historic or architectural interest that it ought to be preserved").
And so it was. A painted wooden Triptych from the Lady Chapel now stands in the Church of St Giles the Abbot, Cheadle. What happened to the other artefacts is a mystery, as was the fate of the marble wall tablets from the west end of the church - one describing its origins, the other being the Roll of Honour, from which on Armistice Day, or the nearest Sunday, the names of the fallen were read out. In those days, the congregation included youngish men wearing medals from the recently ended Second World War, many older men wearing medals from the Great War, and men older still, wearing medals from earlier wars. I particularly remember old Mr Hodges with his reminiscences of Mesopotamia in 1917, and a fine bass voice.




next: St. Jude's 1900-1939
previous: the 'incomers'
---