"This discourse was intended originally to be a brief study of the Church of England Parish of St Simon and St Jude, Stoke-on-Trent, or St Jude's, Hanley to use its short title, and the one by which it was universally known throughout its relatively short life.
The study was prompted by nostalgia and affection, both common in those of a certain age, when I was searching for a way home through the latest road works and found myself in Shelton driving down College Road and along Station Road . Like my immediate forebears, I had been born, baptised, nurtured and educated in the Parish, only to leave for greener pastures as did many of my contemporaries. We left behind an ageing population of parents, aunts and uncles many of whom had dreamed of one day moving to Trentham or Barlaston or other such idyllic locations: few ever did. As I completed my research into the Parish, I began to realise that this was only the blink of an eye in the grand scheme of things, and that it should be seen in a much wider historical and geographical context.
It is not intended to be a 'text book', for that requires accuracy; rather is it a collection of well known, and some not so well known facts tempered with personal reminiscences and second hand or third hand anecdotes containing at least an element of fact. More importantly, the reader should enjoy it and be amused by it, and for these reasons I commend it to residents old and new, and to Staffordshire University which is now a major influence in St. Jude's"
John Alcock - (c) Copyright 2006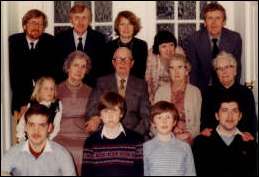 The Dale, Alcock and Bates families at
Esme Dale's 18th Birthday Party
1983