In 1895 two couples were married at opposite ends of the county and were destined to reside in the Parish or very close by. This is a good example of how country people were attracted to the town, never forgetting their origins, and frequently visiting the old folks back home.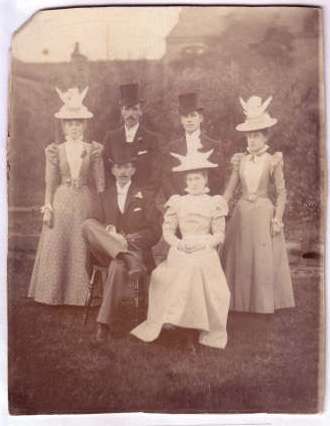 The Dale's Wedding - 1895
John Dale of Harriseahead and Ann Painter of Mow Cop were married at Harriseahead. He was a grocer's traveller, she had been a lady's companion with a prosperous family in Hanley.


Thomas Alcock and Annie Wilne were married in the same year at St Mary's Church, Uttoxeter. He was a railwayman from Leigh Station, she was the youngest daughter of a nurseryman in Uttoxeter.
The Dales took a two-bedroomed terrace house in Watford Street, having been recommended to look at the new houses by Ann's ex-employer during a visit to show off her young man. Shops, church, schools and jobs would all soon be available. Over the next twelve years they produced four children, a boy and three girls. John Dale travelled in a pony and trap over a wide area, taking orders from and arranging deliveries by cart to small grocers shops. He sometimes did not arrive home until late evening, and carried a pistol and knuckleduster for his own protection. He knew what rough areas there were, having originated in Harriseahead which had a questionable reputation. Ann and her eldest daughter remained in that house until she died in 1957 and the daughter died in her eighties.
The Alcocks moved to Stoke when Thomas was promoted to Guard and transferred to Stoke Station. The small terrace cottage in Havelock Street, near the Roebuck could not have been more convenient for all their requirements. Over the next fifteen years they too produced four children, two boys and two girls, and were to remain in that house until the surviving Annie died in her mid-eighties.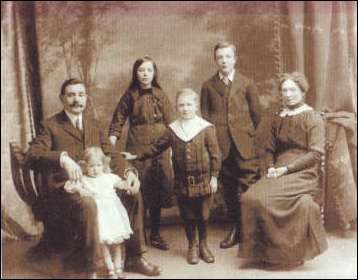 The Alcock family - 1913
Both the houses had gas lighting, and the Duckett system of sanitation, where a salt-glazed stoneware cylinder similar to a chimney pot, was installed directly over the sewer beneath: hand-flushing was by water from an enamel pail kept in the small out-house for that purpose. Both these utilities were a source of open-mouthed amazement to small boys in the 1940's, but in the 1950's the Watford Street house was converted to electricity and the flushing lavatory. Havelock Street never was.
There were apocryphal tales of gloves and prayer books disappearing down the shaft in the rush to get ready for church on a Sunday morning. Both families were staunch Church of England, the Alcocks attending St Peter's, while the Dales became members of the new St Jude's congregation. Thomas Alcock's father John, was verger and sexton at Leigh Church as were his ancestors before him. The old thatched, timber-framed family house in Leigh was called Church View. Family members carried out those offices until the 1990's. The house survives to this day.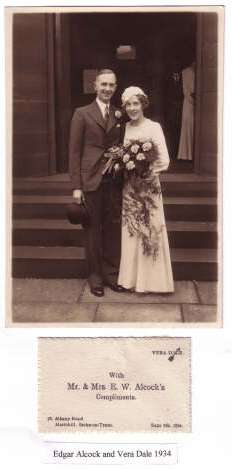 The joining of two families
Edgar Alcock and Vera Dale - 1934




next: parish life
previous: St. Jude's church and town
---