Longport: The 'Kingdom' of Davenport


(1760's - mid 19th C))
Burgess Dorling & Leigh (the model Victorian Pottery)
Location 16 on the index map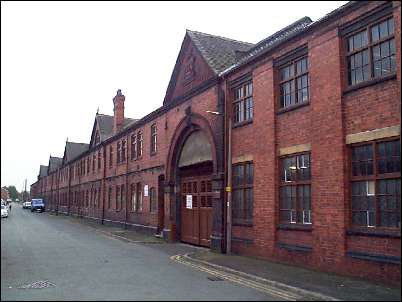 Burgess & Leigh 'Middleport Pottery'

Over the next 60 years the area between Newcastle Street and the canal was rapidly developed with new terrace houses and factories. One new development was the construction of the Middleport Pottery by Burgess & Leigh between the canal and Port Street in 1888-9. Their new "Model Pottery" was described as follows in 1893:

"What may be styled the 'Model Pottery' of Staffordshire — that of Messrs Burgess and Leigh, of Burslem, may claim special illustration here, and the more so, that the scope of the operations carried on there is a very wide one, including everything of domestic utility, almost from the plainest to the most elaborate workmanship. In point of date of establishment, the firm is very respectable, having begun operations in 1862, at the Central Pottery, Burslem, whence they removed to Hill Pottery, where they remained till the completion of the fine premises now occupied, in 1889.... The Middleport Pottery was built by the firm and specially designed to meet the requirements of their business. The plan is quadrangular, with a frontage of 288 feet, and a depth of 216 feet, the extent of the site being thus near an acre and a half.

The long, gabled frontage is of neat and handsome design, and of two stories; similar ranges of buildings running back from its extremities and enclosing a large space of ground crossed with several parallel lines of buildings, enclosing specious courts or yards, in which the kilns are conveniently built. The offices occupy a portion of the front line of buildings, almost the whole of the remainder of the premises being devoted to manufacturing operations. Steam power is supplied throughout."

The illustration of the factory above is from an advertisement in the Potteries, Newcastle & District Directory, published in 1907. Virtually all the buildings shown in the illustration, with the exception of most of the bottle ovens, are still standing today (2000) and the factory is one of the best-preserved examples of a Victorian pottery in Stoke-on-Trent.

The Anderton Canal Company bought the adjacent site in the early 1890s where they erected a large warehouse and boat repair yard most of which is intact. These new developments can be found on the 1900 map which should be compared with the 1832 map and 1851 map to get a good idea of the changing nature of the area.
---
next is the Anderton Canal Company
---
questions/comments/contributions? email: Steve Birks