Albert Square is the centre, lopsided, as two sides are grand, the other two mean.
Christ Church, the magnum opus of Charles Lynam of Stoke - magnum, however, only in size. Built in 1890-1, the tower in 1899. Red brick with a high w tower with a yet higher stair-turret. Long nave with clerestory, long chancel. The clerestory has twice as many windows as the lower parts have bays. Exposed brick interior, open timber roof.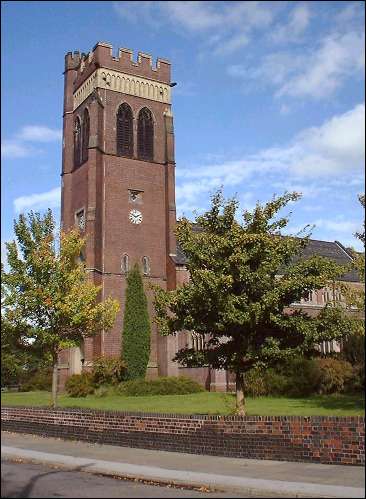 Christchurch - Albert Square, Fenton
photo: c.2000 (Peter Bennett)





on Christchurch

---
Town Hall, 1888-9 by R. Scrivener & Son of Hanley. Brick, symmetrical, Gothic - but with a number of little originalities which help to relieve the portliness of the building.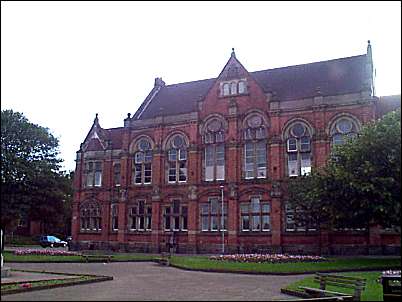 Built in 1889 at the expense of William Meath Baker to be part
of the new centre of Fenton.
Today the building is used as the Magistrates Court
photo: July 2000

on Fenton Town Hall


on the coat of arms on the Town Hall
---
Behind the town hall is the Magistrates' Court, same architect, same date, but William and Mary style.

The Stoke-on-Trent coat of arms is carved in relief above
the entrance of the Magistrates Clerks to the Justices offices.

on the Magistrates' Court

---
Next to this is the Library, 1905-7 by F.R. Lawson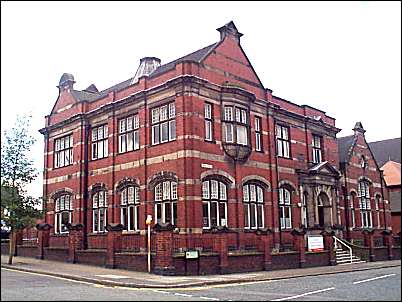 William Meath Baker provided land behind the new town hall for building a public library.
A donation from the Carnegie Trust paid for the building of the library which was completed in 1906.
---
At the corner of City Road the former Athenaeum, now a bank. Five bays, nicely Italianate. 1853 by Ward & Son of Hanley.

High Street East, Fenton (now City Road)
looking towards Longton.
On the right at the corner of Church Street (now Christchurch Street) can be seen the corner of the Fenton 'Athenaeum' built by William Baker in 1853 with a newsroom, library and laboratory.
In 1865 part of the building was leased to the Manchester & Liverpool District Banking Co., Ltd. and later the National Westminster Bank - it was demolished in 1977 and replaced by a modern bank building.

on the Athenaeum