| | |
| --- | --- |
| Wileman & Co | |
Location and period of operation:
| | | | |
| --- | --- | --- | --- |
| Wileman & Co | Longton | 1872 | 1925 |
China manufacturers at The Foley Potteries, Foley, Fenton, Stoke-on-Trent, England
The Wileman family had been involved in ceramic manufacture from 1853 when Henry Wileman joined John King Knight in partnership as Knight & Wileman.

The business was continued by the sons James & Charles, producing china and earthenware in two adjacent factories.

In 1872 James Wileman took Joseph Ball Shelley into partnership at the china works and the name was changed to Wileman & Co. (Shelley had first joined the business in 1862 as a travelling salesman under James' father Henry Wileman).

In 1881 Percy Shelly, Joseph's son, joined the business.

In December 1884 Wileman retired from the china works (Wileman continued at the earthenware works until 1892) and Joseph Shelley continued on his own account at the china works but retaining the name Wileman & Co.

1896 - Joseph Selley died and the business was contined by Percy Shelley.

In 1896 Frederick Alfred Rhead moved from Brownfield's pottery and joined Wileman & Co as Arts Director. At Wileman he introduced several earthenware art-ware ranges.

Percy's sons Kenneth, Victor and Norman all joined the business in 1918.

In 1925 the name was changed to 'Shelleys'.
Formerly: James F Wileman
Subsequently: Shelleys
---
The London Gazette
20 January 1885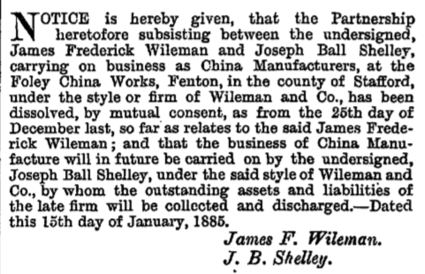 Notice that the partnership 'Wileman & Co' between
James Frederick Wileman and Joseph Ball Shelley
at the china works, was dissolved -
J B Shelley continued on his own account,
retaining the name 'Wileman & Co'
---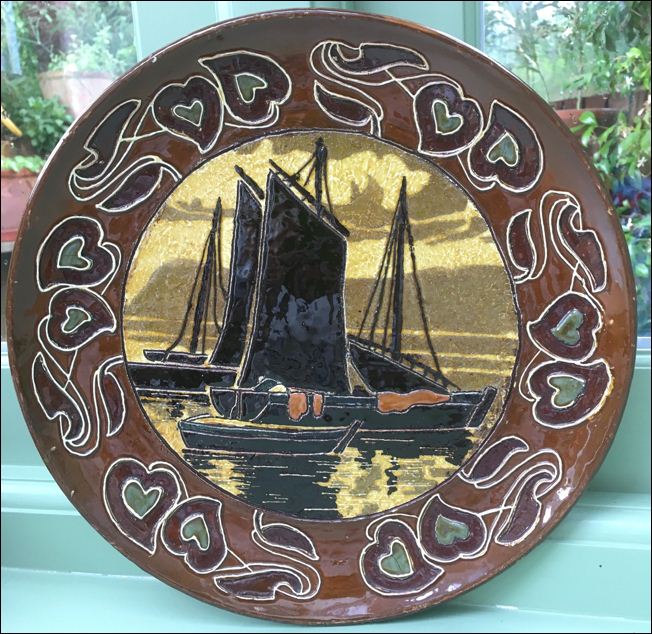 Wileman tube lined art pottery plate
Faience is the general term for tin-glazed pottery. However in English 19th-century usage "faience" was often used to describe "any earthenware with relief modelling decorated with coloured glazes", including much glazed architectural terracotta and Victorian majolica, adding a further complexity to the list of meanings of the word.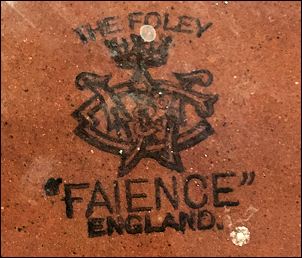 W C & Co
standard mark - intertwined W and Co
with crown above
c.1896 - 1911
photos courtesy: James Cross
---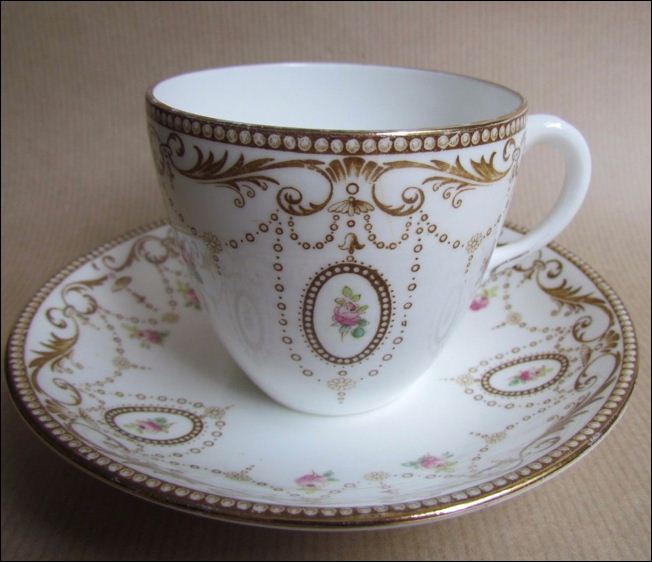 gilt decorated cup & saucer
---

crested cup & saucer

Late Foley
Shelley
England

manufactured for
Cheesman & Co
---

Souvenir ware

Commemorating the Coronation of King George V & Queen Mary
June 1911


Late Foley
Shelley
England
---
---
Initials and marks used on ware for identification:
NOTE: The name FOLEY was also used on ware of the pottery E. Brain
W C & Co
THE FOLEY CHINA
FOLEY CHINA
LATE FOLEY
SHELLEY
---

W C & Co
standard mark - intertwined W and Co
with crown above
c.1872 - 1911
---

The Foley China
W C & Co


W C & Co

the registration numbers give the following registration dates:

60650 - 4 Nov 1886 (shape)
84175 - 17 Oct 1887 (pattern)


England
W C & Co

the registration numbers give the following registration dates:

115510 - 10 Dec 1888 (shape)
117220 - 9 Jan 1889 (pattern)
c.1872 - 1911
---

Late Foley
Shelley
England

c.1918 - 1923


Shelley
England

the registration number 723404 gives the registration date as 1926

c.1923+


Fine Bone China
Shelley
England

c.1923+
---

1879 map showing the Foley Potteries
- click map for more -
---
Questions, comments, contributions? email: Steve Birks
---