John Wedg Wood

(sometimes incorrectly recorded as John Wedge Wood)







Location and period of operation:
John Wedg Wood

Burslem
Tunstall

1841
1845

1844
1860
Manufacturer of earthenware at Hadderidge Bank, Burslem and then at Woodland Street, Tunstall, Stoke-on-Trent

John Wood either already had or, more probably adopted, a middle name 'Wedg' - this rather conveniently caused his marks to been mistaken for the more famous Josiah Wedgwood

One trade directory (1841 Pigot) lists his second name as 'Wedge' but all others correctly give 'Wedg'

John Wedg Wood died, age 43, in May 1857
[ see "Confused by Wedgwood?" ]
---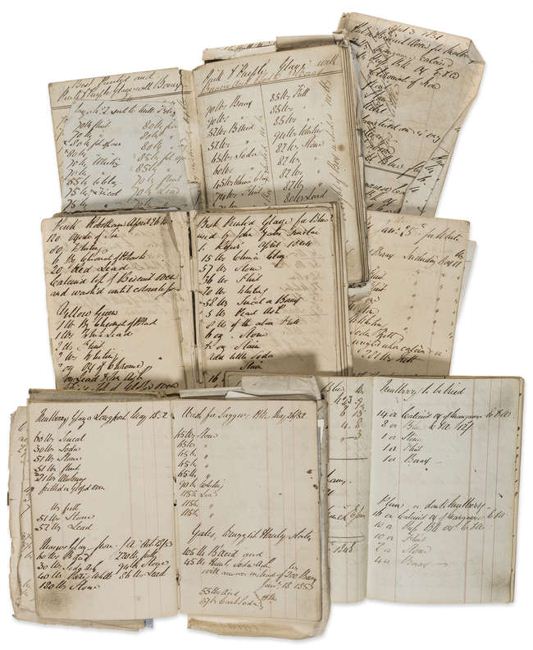 notebooks of John Wedg Wood, containing recipes for pottery body and glazes
---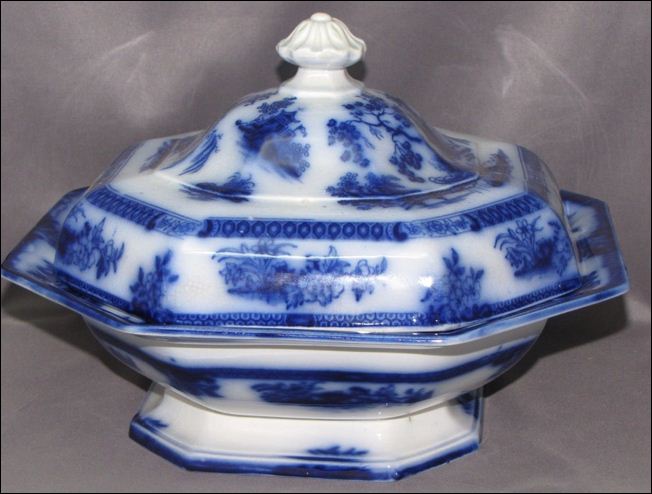 tureen in the CHAPOO pattern

plate in the FESTOON pattern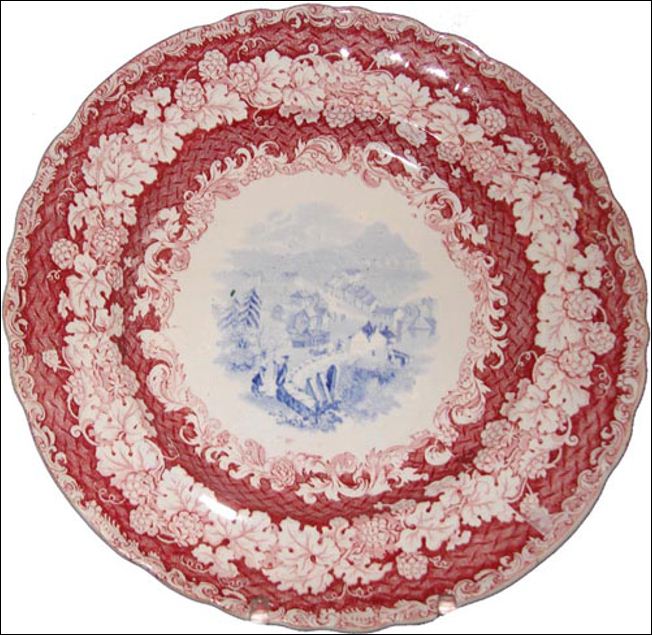 plate in the HIBERNIA series
the view is Enniskerry
"Hibernia" series

An uncommon series of untitled views of Ireland by John Wedg Wood of Tunstall.
The central scenes are printed within a very wide border featuring a garland of hops on a geometric ground with inner and outer bands of foliate scrolls.

The printed mark is in the form of a globe surmounted by a sailing ship with the series title "HIBERNIA" to the left and the maker's name "J WEDG.WOOD" (note the period between Wedg and Wood) to the right. This series is known only on dinner wares, printed in blue or with blue centres and either red or purple borders. Other colours or combinations may well exist.
(photo & text courtesy Dick Henrywood)
---
Initials and marks used on ware for identification:
NOTE: The firm Josiah Wedgwood did not use marks with the initial letter J
The marks of John Wedg Wood sometimes have a slight gap or dot between WEDG and WOOD.
W.W.
J WEDGWOOD
WEDG WOOD
WEDG-WOOD
WEDG.WOOD
---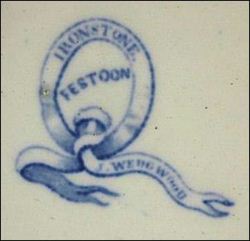 Ironstone
J. WEDG WOOD
note the slight gap between WEDG and WOOD
'FESTOON' is the pattern name
---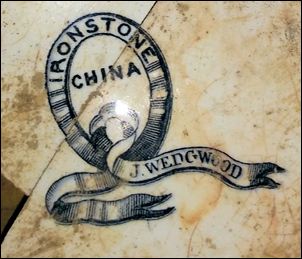 Ironstone
China
J. WEDG.WOOD
note the dot between WEDG and WOOD
fragment found under foundation of house
built in 1880 in Corning, New York
(courtesy Charles Hetherington)
---

J. WEDG.WOOD
note the dot between WEDG and WOOD
HIBERNIA is the name of a series of views of Ireland
The same basic mark was used for another pattern titled 'TRAFALGAR'
(courtesy Dick Henrywood)
---
questions, comments, contributions? email: Steve Birks
---