F Buckley

& Son






Location and period of operation:
F Buckley

& Son

Tunstall

c. 1930s

c. 1940s
Frank Buckley was a decorator operating at the Plex Street Pottery, Tunstall, Stoke-on-Trent.

They used blanks (undecorated ware) from pottery manufacturers and then added their own decoration - often in an art deco style or floral pattern.

Buckley was associated with H J Colclough and W H Grindley.

The Staffordshire Tea Set Company grew out of this original business.
Subsequently: Staffordshire Tea Set Company
---


Buckley decorated ware - "Silver Queen" pattern


"Apple Blossom" pattern

These examples used a GRINDLEY blank

---


unnamed pattern - Frank Buckley & Son

---


Made in England
F BUCKLEY & SON
PLEX POTTERY
TUNSTALL STAFFS

---


A Frank Buckley Production

the Buckley mark is overprinted on the
blank ware manufacturers mark

---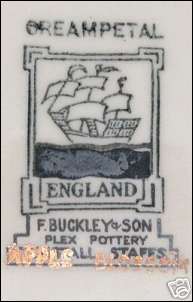 The backstamps show the GRINDLEY ship but the name
has been blacked out and
F BUCKLEY & SON PLEX POTTERY TUNSTALL STAFFS
has been printed underneath
---
The pottery works were originally St Mary's school-chapel, opened in 1853. It was used by Frank Buckley as his works for decorating earthenware blanks - by the 1930s it had become part of F Buckley & Son's Staffs Tea Set Company.

Photo from Pinterest (source unknown)
- click for more on the Plex Street Pottery -
---
Questions/comments/contributions? email: Steve Birks
---