Location and period of operation:
| | | | |
| --- | --- | --- | --- |
| Clementson Bros | Hanley | 1865 | 1916 |
Earthenware manufacturers at both the Phoenix Works and the Bell Works, Hanley, Stoke-on-Trent
Joseph Clementson had operated on his own account since 1839, he retired from business in 1867 in favour of his four sons and his son-in-law, Edward Baxter (minister at Bethesda chapel Hanley, who had married his youngest daughter Lucy).

By 1893 Clementson Brothers had 275 employees.

In 1910 the business became a limited company.
Previously: Joseph Clementson
---


Clementson Brothers
Phoenix and Bell Works, Hanley

The Pottery Gazette, February 2nd 1880

The 'Established 1832' refers to a previous partnership of Read & Clementson

---




"The firm manufacture almost entirely for the North and South American and West Indian markets, doing at the present day a very large trade with those sources, their productions comprising white, granite, mid printed goods, such as dinner, tea, and toilet ware, etc, and they are milking a special feature at the present time of printed toilet ware, and also printed and plain semi-porcelain ware, and, having lately added a valuable plant of modern machinery to this end, they are in a position to compete favourably with any other house in the Potteries in these particular goods.
The Bell Works throughout are fitted with all the most modern and improved machinery und appliances; seven ovens - four of which are glost and three biscuit - are kept constantly going, together with the usual hardening-on and enamelling kilns, etc.; the average number of hands employed by the firm being 275.
Every attention is paid to sanitary matters throughout the works so as to ensure the health and comfort of the operatives, and the general relations existing between Messrs. Clementson Brothers and their numerous workpeople are of the most harmonious and satisfactory character.
In addition to the manufacture of earthenware, Messrs. Clementson Brothers are also millers, having a very large mill from which they supply other manufacturers with."

1893 trade directory

---



Jug in the Marguerete pattern

---





Clementson Bros chamber pot

---



Tureen in the Lorraine pattern

---


plate in the CHUSAN pattern

---


jug in the Claremont pattern

this pattern was first registered on 30th June 1856
by Joseph Clementson

---

tureen in the Delft pattern
Clementson Bros produced a wide range of dinner ware in this pattern

along with the Clementson Bros mark
there is an impressed mark 'MINTON"

There was no known connection between Clementson and Minton, apart from the fact that they were both pottery companies in Stoke-on-Trent. Clementson was based at the Phoenix works (to match the trade mark) in Shelton, Hanley, and Minton was in Stoke.

The most likely explanation for the Minton mark is that this was a blank supplied "in the white" to another manufacturer, in this case Clementson, and decorated with their pattern. This tureen would almost certainly have been part of a larger service and, if the maker didn't usually produce these and so didn't have a the right shape in their repertoire it would have been an easy solution to buy the appropriate shape and decorate it. Many companies did this from the 18th century onwards rather than going to the trouble and expense of making a shape for which they usually had little demand.

information kindly supplied by: Stoke-on-Trent City Archives

photos courtesy: Phil Jones

---
Marks used on ware for identification:
CLEMENTSON BROS

---
ROYAL PATENT STONE WARE
ROYAL SEMI PORCELAINE
SPECIAL WHITE STONE WARE
SEMI CHINA
IVORY WARE
---

Clementson Bros
England
the mark with the phoenix bird
was originally used by Joseph Clementson

'Marguerete' is the pattern name
marks with 'ENGLAND' are
generally 1891+
---

CLEMENTSON BROTHERS
Royal Patent Stone Ware
HANLEY

c.1870-1910


CLEMENTSON BROS Limited
Special White Stone Ware
HANLEY

Warrented Genuine English
Ironstone

Marks with 'Limited" are 1910+
---

Royal Semi Porcelaine
Claremont
C.B.
Staffordshire
Ivory Ware
'Claremont' is the pattern name
this pattern was first registered on 30th June 1856
by Joseph Clementson and was continued by Clementson Bros
---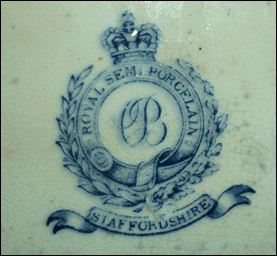 Royal Semi Porcelaine
C.B.
Staffordshire
---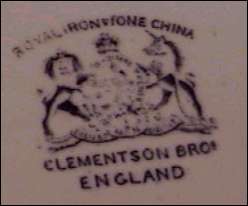 Royal Ironstone China
Clementson Bros
England
style of mark with the Royal Arms
marks with 'ENGLAND' are
generally 1891+
---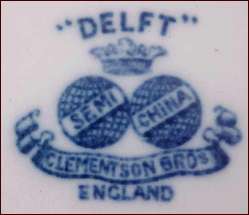 Semi China
Clementson Bros
England
'DELFT' is the pattern name
1901-13
c.1901 the use of a crown in the mark
was introduced in place of the Phoenix
---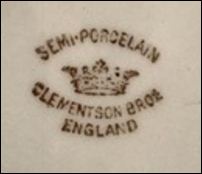 Semi Porcelain
Clementson Bros
England
1913-16
---
---
Questions, comments, contributions? email: Steve Birks
---