Thomas Cone, Ltd
Thomas Cone, (Longton) Ltd







Location and period of operation:
| | | | |
| --- | --- | --- | --- |
| T Cone (Thomas, Ltd) | Longton | 1892 | 1963 |
Earthenware manufacturer at the Alma Works, Longton, Stoke-on-Trent, England
Originally (c.1892) as T Cone & Co - in partnership with Lewis Bentley

Then as Thomas Cone Ltd. (1893 - c.1920)

About 1920 the business was acquired by Thomas C Wild & Sons and was renamed Thomas Cone (Longton) Ltd.

In 1942 the Alma works were closed under the Wartime Concentration Scheme.

In 1946 T.C. Wild sold the dormant business to a Mr. Rose who reopened the Alma Works, producing tableware under the name Thomas Cone.

Around 1947/9 the business was aquired by Charles Bowers and traded as Thomas Cone Ltd., initially as part of the Keele Street Pottery Group and then from 1950 as part of Staffordshire Potteries (Holdings) Ltd.

In 1963 manufacturing was moved to the Staffordshire Potteries site in Meir and the Alma Works in Longton was closed - the Thomas Cone name became a production unit at the Meir Works.
---
London Gazette 10 Oct 1893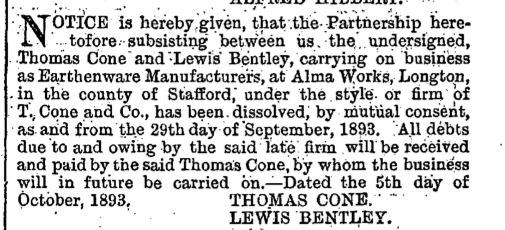 announcement that the partnership between Thomas Cone
& Lewis Bentley had been dissolved
Thomas Cone continued on his own


---
Thomas Cone Ltd
Alma Works High Street
Longton, Stoke-on-Trent, England
One of the K.S.P. Group of Potteries
(Keele Street Pottery Group)
Advert for Thomas Cone Ltd from the April 1953 Pottery Gazette
---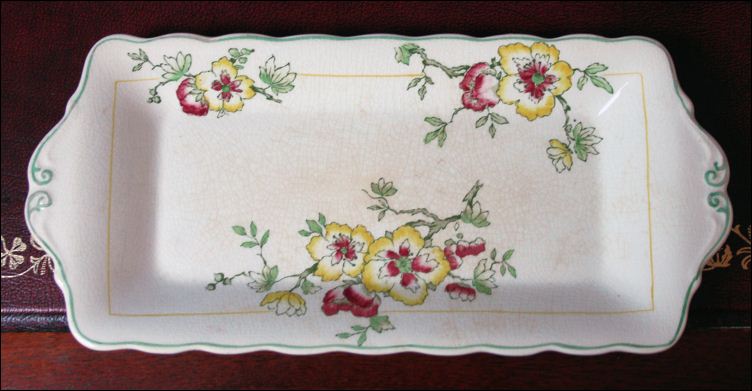 Dish desgned by Edith Gater
Edith Gater (1930's) was an artist producing tube-lined wares. Patterns include the famous Springtime, she also contributed designs to the Morris Ware range at Sampson & Hancock. Later she worked for Cauldon Potteries also designing tube-lined wares. During the war Edith left to do war work and afterwards went to work at Thomas Cone, Longton.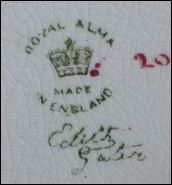 ROYAL ALMA
Made in
England
Edith Gater
---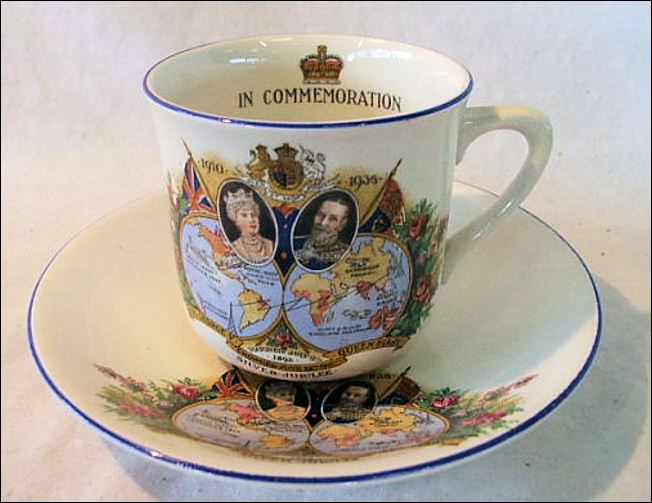 cup & saucer
King George V Silver Jubilee 1910-1935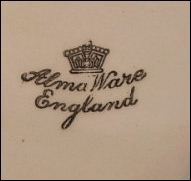 Alma Ware
England
---

Alma Ware - 1930's Blue Floral trio
---

Floral pattern plates with gilt


Royal Alma
Est 1856
Made in England

mark introduced 1950+
---
Marks used at the Alma Works, Longton:
Some adverts and marks state 'Established 1856' - the Thomas Cone business actually started in 1893. The 1856 date is most likely the date of the original works on the site later occupied by Cope.
T C
L
(the 'L' standing for LONGTON)
T C
LONGTON
impressed or printed marks
often with a pattern name
1892 - 1912
---
ALMA WARE
ROYAL ALMA
brand names used by Thomas Cope

---

Asiatic Pheasants
T. C.
---

TC
LONGTON

TC
LONGTON

'PHEASANT' is the
pattern name


TC

monogramme mark
with crown above
mark used 1912-35
---

Alma Ware
England

1935-42


Royal Alma
Made in England

mark introduced 1946+


Royal Alma
Est 1856
Made in England

mark introduced 1950+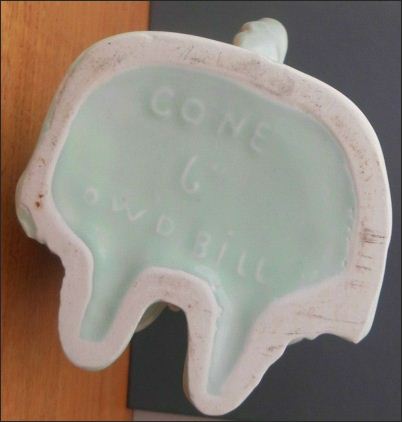 COPE
OWD BILL
cast-in mark used on toby jug
- the '6' is likely a size mark -
---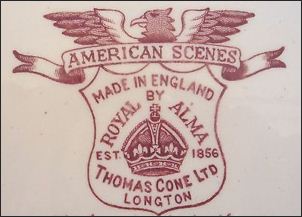 Made in England
by
Thomas Cone Ltd
Longton
Royal Alma
Est. 1856

'American Scenes' is the name of a series of transfer ware views
c.1950-63
---
Marks and ware from the Meir Works (Staffordshire Potteries):
In 1963 manufacturing was moved to the Staffordshire Potteries site in Meir and the Alma Works in Longton closed.
the Thomas Cone name became a production unit at the Meir Works - ware was marked 'Royal Alma Est. 1856'

1970's Royal Alma cups and saucers
produced at the Staffordshire Potteries works in in Meir
(similar in design to Kiln Craft pottery)


Est 1856
Royal Alma
Ironstone
Staffordshire
Made in England

11-73 is the date of manufacture - November 1973
---

Coaching Scene cup

Est 1856
Royal Alma
Staffordshire
Ironstone
Made in England
---

The box is marked 'Royal Alma'

Kiln Kraft
Staffordshire Potteries Ltd
---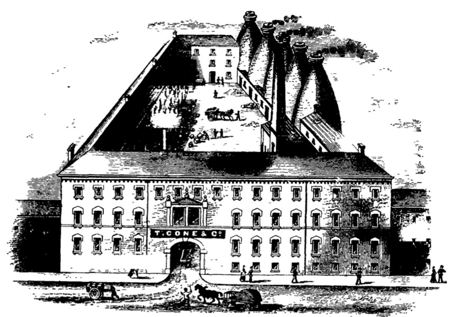 Thomas Cone, Alma Works in 1907
High Street (now Uttoxeter Road), Longton
- click for more information -
---
Questions, comments, contributions? email: Steve Birks
---