Location and period of operation:
| | | | |
| --- | --- | --- | --- |
| William Baddeley | Hanley | 1802 | 1822 |
William Baddeley b.1780. (married Amelia James)
Manufacturer of Egyptian-black, often in Wedgwood Style, and fancy and ornamental earthenware at Eastwood, Hanley, Stoke-on-Trent.

See Baddeley family of potters -

"William Baddeley produced earthenware and basaltes at Eastwood, Hanley, from 1802 to about 1822. His mark was the word EASTWOOD impressed. EAST is often poorly impressed, so the mark might at first appear to be WEDGWOOD."

"In about 1720, William Baddeley (an old name in the district) commenced making brown ware at Eastwood, Hanley. In about 1740, having invented an 'engine-lathe', he began to make turned articles in cane and brown ware. He was succeeded in the pottery by his son, William Baddeley.

This second William Baddeley (worked from 1802 to 1822) made many improvements in the ware and attempted, both by an imitation of body of his vitreous ware and by his mark, to palm off some of his goods as Wedgwood's. His mark was the word EASTWOOD impressed on the ware, but he contrived to have the EAST indistinct and the WOOD clear, thus hoping to catch the unwary by the latter syllable.
He died at an advanced age. The works at Eastwood having been sold, his son, William Baddeley, commenced in Queen Street, Hanley."

Jewitt's Ceramic Art of Great Britain 1800-1900.

For the sake of clarity: William Baddeley [I] (who started manufacturing about 1720) was the father of the William Baddeley [II] (b.1780) who operated between 1802 & 1820. The son of the second William Baddeley was also named William Baddely!! (his full name I think was "Henry William Baddeley" )

Mark used on EASTWOOD Ware
---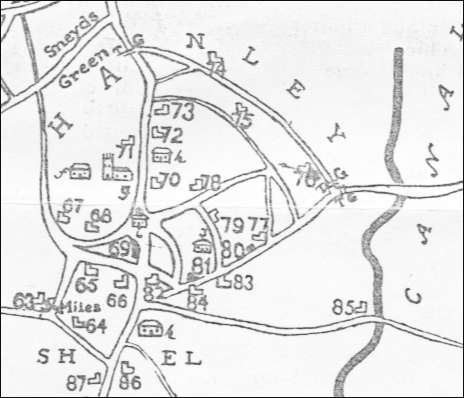 Albut's map of 1802 showing the location of the potteries
William Baddeley's works is number 85
alongside the Cauldon Canal at Eastwood, Hanley
---
The photos below are of the present Eastwood Pottery
which stands on the location of the original William Baddeley's works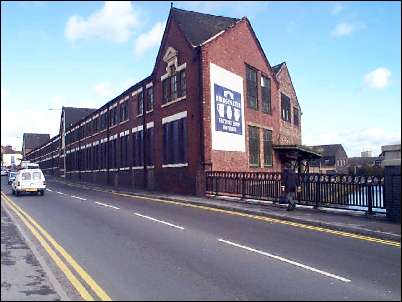 Looking up Lichfield Street with Bridgewater's Eastwood Pottery factory
in the centre of the picture -
the Cauldon Canal is visible between the
railings of the bridge on the right of the picture.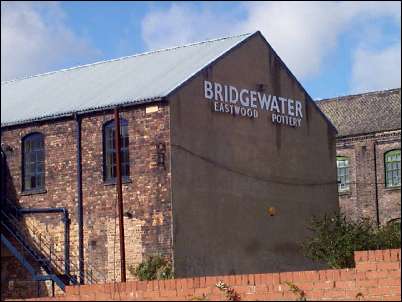 The rear of Bridgewater's Eastwood Pottery factory

Standing on the bridge in Lichfield Street looking along the Cauldon Canal
photos: 1999
---

questions/comments/contributions? email: Steve Birks
updated: 25 July 2005