Location and period of operation:
| | | | |
| --- | --- | --- | --- |
| Elsmore & Forster (& Co) | Tunstall | 1853 | 1871 |
Earthenware and Parian manufacturers at the Clayhills Pottery, Tunstall, Stoke-on-Trent, England
The original partnership was between Thomas Elsmore, Thomas Forster and Richard Blackhurst trading as Elsmore, Forster & Co.

Blackhurst left the partnership in 1855 and Elsmore & Forster continued in business together.

Around 1871 Forster left the business and Thomas Elsmore continued as Elsmore & Son.
Subsequently Elsmore and Son
---
Selected by the Committee for the Staffordshire Potteries
to exhibit at the Paris Universal Exhibition of 1855

---
London Gazette, 2 February 1855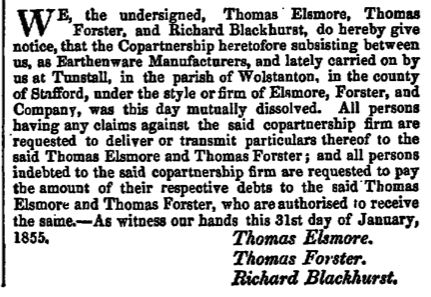 notice of the dissolution of the earlier partnership of
Elsmore, Forster & Blackhurst

---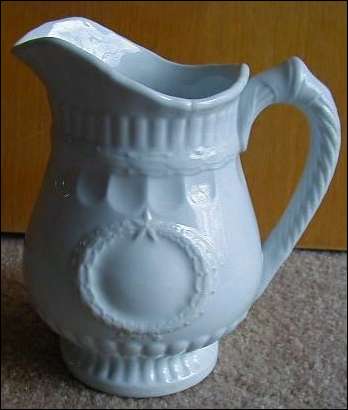 Creamer in the Laurel Wreath/Victory shape
registered by Elsmore and Forster in 1867
It has the victor's laurel wreath with a single star at top on two sides
Pattern was conceived with the American public in mind during the post Civil War period.
In 1867 Andrew Johnson was battling with Congress over Reconstruction that eventually lead to his impeachment...and in 1868, the election of the Civil War Victor, Ulysses Grant.
---

white ironstone teapot in the Ceres shape

Ceres (one of the most collected wheat patterns), was named after the Roman goddess of agriculture.
Elsmore & Forster registered the shape in 1859 - other ironstone manufacturers used similar shapes


Warrented Ironstone China
Elsmore & Forster

Printed mark using the the Royal Arms

Applied mark showing the registration diamond for 2 November 1859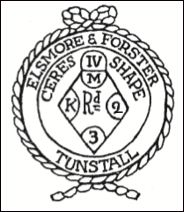 marks used on the Ceres shape ware
the round mark has the town name TUNSTALL (where the factory was located)
and incorporates the Stafford Knot
---
Marks used on ware for identification:
ELSMORE & FORSTER
ELSMORE & FORSTER
TUNSTALL
---

Warranted Ironstone China
Elsmore & Forster

Imperial Parisian Granite
Elsmore & Forster
typical printed marks

---

Elsmore &
Foster

impressed mark
note the misspelling of FORSTER


Elsmore
& Foster
Tunstall

impressed mark


Elsmore & Foster
Tunstall
Ceres Shape

applied mark with registration diamond

applied marks were made using a coin-like pad of clay which was impressed with the design and attached to the bottom of a piece with very liquid clay called slip
---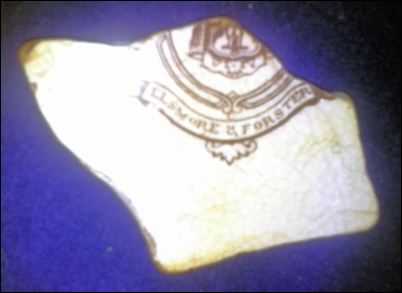 fragment of pottery with the Elsmore & Forster mark found
at the beach at The Rockways - New York City
Elsmore & Forster presentation and puzzle jugs

Elsmore & Forster specialised in this type of jug and produced a number of variations of them, all decorated with engraved images relating to popular entertainment - they seem to have acquired a stock of old prints which they printed in different combinations on various-sized jugs.

Generally very highly decorated with hand-coloured lustre-glazed transfer prints, on a cream ground.

The circus theme jugs had theatrical engravings including the clown Joe Cashmore and Grimaldi, other clown images, Pantomime characters, Harlequins and chap-book prints of native & zoo animals, and other whimsies.

These puzzle jugs and related barware accessories were wildly popular in pubs and gambling establishments. This puzzle jug has a hole in the handle connected through an inner tube to a hole in the bottom. The unsuspecting drinker who picks up the jug without blocking the hold in the handle will be surprised when the ale pours out of the bottom!

Many of the presentation jugs included various cock fighting scenes and these jugs were often used as presentation jugs, presumably to the owner of the winning cock.

NOTE: manufacture of presentation jugs was continued by the sucessor company - Elsmore & Son - it would appear that ware manufactured by them didn't have a makers mark.
| | | |
| --- | --- | --- |
| "The Great Cashmore - Everybodys Clown" | Joseph Grimaldi as Joey the Clown | this figure seems to be a composite of a number of clowns |
Joe Cashmore... According to John Turner's biographical dictionary of British circus performers, Joe's father was a clown named Ike Cashmore and his mother, billed as Madame Cashmore, was a noted tight-rope performer and equestrian. His full name was Joseph Henry Cashmore, and advertisements printed in The Era (a contemporary trade journal for entertainers) listed his skills as: "Comic Knockabout Clown, High Stilts, Juggler, Running Globe, Vaulter, &c."
---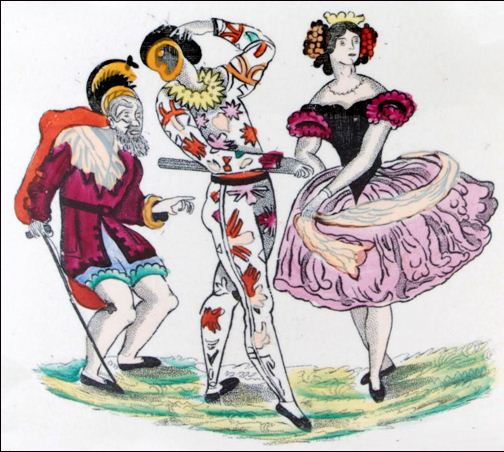 Italian comedy (Commedia dell'arte) figures
---
| | |
| --- | --- |
| | |
| | |
Large bar-ware jug by Elsmore & Forster or Elsmore & Son
This large jug has a hand grip under the spout to enable it to be steadied when pouring. There is an impressed 21 on the base but no makers mark.
---

Elsmore & Forster presentation jug
'Abel Pointon Macclesfield 1871'

this jug has no makers mark


puzzle jug - 'Boys Drink'
this jug has the Elsmore & Foster mark shown on the right


Warranted Ironstone China
Elsmore & Foster

mark on the 'Boy's Drink' puzzle jug - incorporating the Royal Arms
---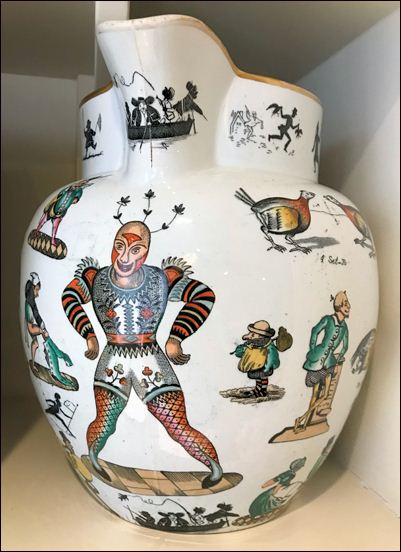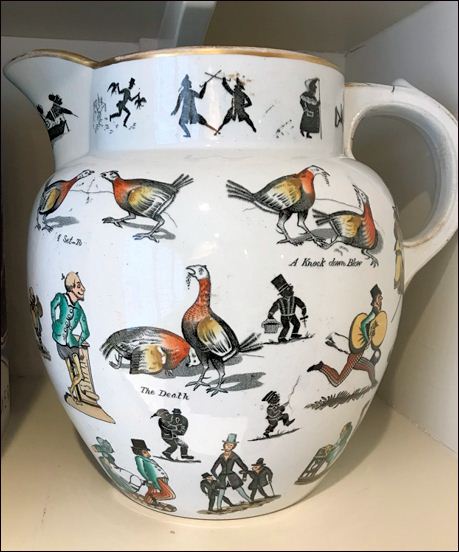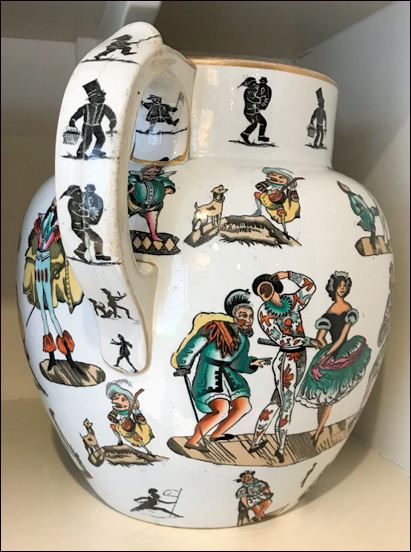 example with Italian comedy style figures, cock fighting scenes, various chap-book characters and wimsical shadow figures
photos courtesy: Bea Boulton
---
Questions, comments, contributions? email: Steve Birks
---