Location and period of operation:
Charles Ford

(&Co)

Hanley

c.1846

1907+?
Stilt and spur manufacturer at Parker Street, Hanley, Stoke-on-Trent

Originally an Engineer, Iron & Brass Founder - advertised as 'Manufacturer and patentee of the patent spur used by china and earthenware manufacturers in placing flat ware'.

'Letters patent granted to Charles Ford, original inventor and patentee 14th December 1846'

Evidently others copied Charles Ford's patented products. In 1849 there was a Chancery Case Ford v. Buller concerning infringement by Thomas Buller of Bovey Tracey Pottery Works, Devon, of patent of Charles Ford of Shelton, Stoke-on-Trent, engineer and manufacturer, for manufacture of cockspurs for use in the pottery industry.

In 1879 and 1882 trade directories the company is noted to be in the hands of executors.

The business continues at least until 1907 (when it is recorded in a trade directory).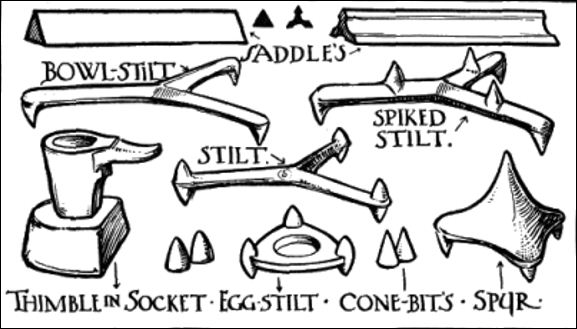 Stilt and spurs
used to seperate ware during the firing process
to prevent sticking of the glaze
---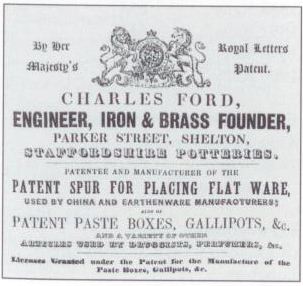 Charles Ford
Parker Street, Shelton
Slater Directory - 1850
early adverts give the address as Shelton and later adverts as Hanley
originally Stafford Street was the dividing line between the townships of Hanley & Shelton
as time went on the boundary of Hanley expanded to include much of Shelton

---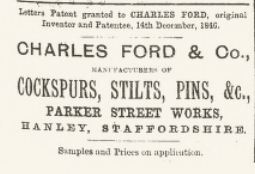 Charles Ford & Co
Parker Street Works, Hanley
Pottery Gazette - May 1880
---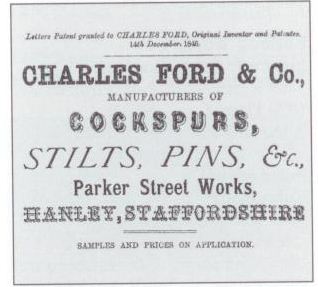 Charles Ford & Co
Parker Street Works, Hanley
Keates Directory - 1882
courtesy: R K Henrywood - 'Staffordshire Potters 1781-1900'
---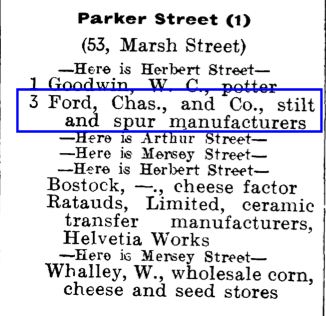 Ford, Chas., & Co.,
stilt and spur manufacturers

from: 1907 Staffordshire Sentinel
'Business Reference Guide to The Potteries, Newcastle & District'
---

running centre top to bottom is Trinity Street and Etruria Road
Hanley - 1929
Britain from above
- click picture for more -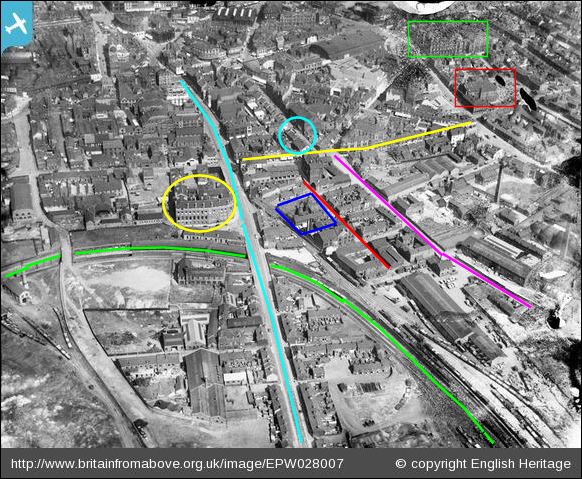 Blue rectangle is the works of Charles Ford
Red line is Parker Street
Light Blue line = Trinity Street & Etruria Road
Green line = Potteries Loop Line railway
Yellow line = Marsh Street
Purple line = Clough Street
Yellow oval = Grand Hotel
Light blue circle = Former chapel, then Scout Shop, then restaurant
Green rectangle = Town Hall
Red rectangle = Bethesda Methodist Chapel

---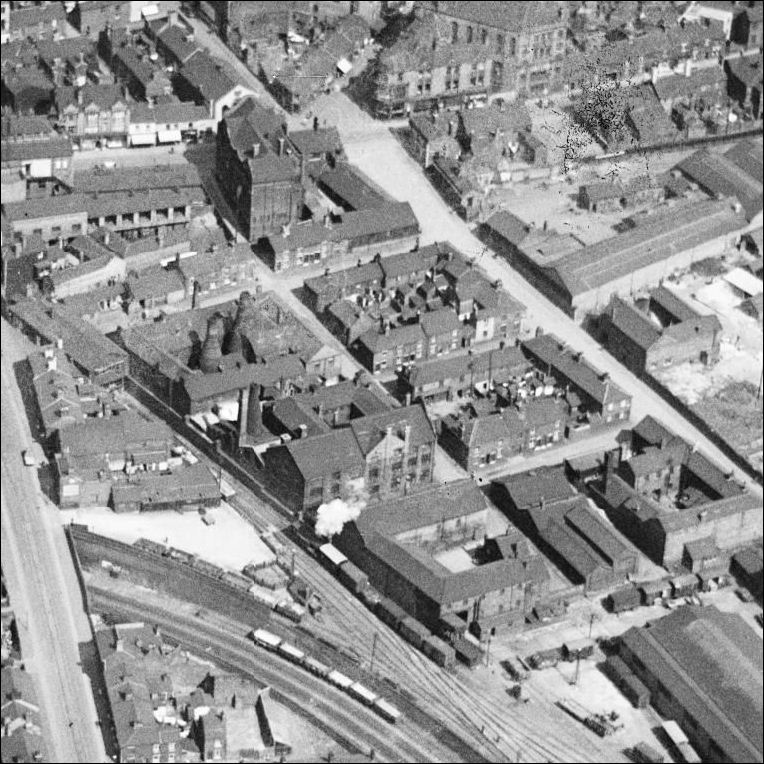 Centre left is the Parker Street works of Charles Ford

Blue rectangle is the works of Charles Ford
Red line is Parker Street
Light Blue line = Trinity Street
Yellow line = Marsh Street
Purple line = Clough Street
Light blue circle = Former chapel, then Scout Shop, then restaurant
---
questions/comments/contributions? email: Steve Birks
---