| | |
| --- | --- |
| James Gildea | |
Location and period of operation:
| | | | |
| --- | --- | --- | --- |
| James Gildea | Burslem | 1885 | 1888 |
Earthenware and porcelain manufacturer at the Dale Hall Works, Longport, Burslem, Stoke-on-Trent.

In 1878 James Gildea joint the partnership of Bates and Walker, in 1881 Bates left the partnership and
Gildea & Walker continued together, in 1885 Gildea continued the business alone.
c. 1887 the business was carried on as Keeling & Co.

Previously: Gildea & Walker [1881-85]

Subsequently: Keeling & Co [1887-1936]

---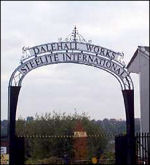 click for more
information on the
Dale Hall Works
---

plate by James Gildea in the Marguerite pattern
---

Platter in the Leaf pattern
this platter bears an impressed manufacturing date Februaruy 1887
---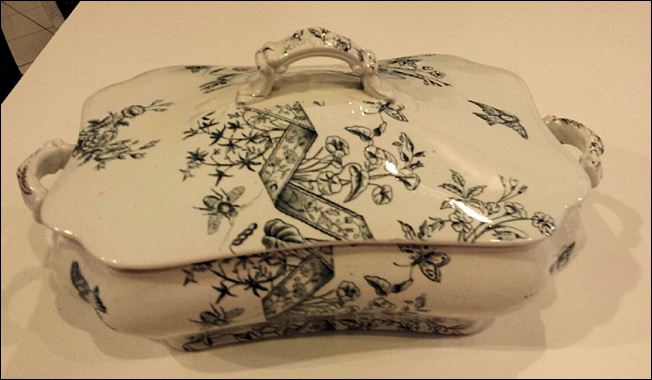 covered dish by James Gildea in the Hannover pattern
---
Initials & Marks used on ware for identification:
JG
Late Mayers

If you have a piece of pottery with the date "1790" printed on the bottom, then one thing you can be sure of - it was not made in 1790. If it has the initials JG (for James Gildea) then the date of manufacture was 1885-1888.

It was not unusual for potters to try to establish an early date, to try to give their ware some sense of history and value.

The occupiers of the Dale Hall pottery works used the date "1790" - which was the date the works were first built by Joseph Stubbs.

The wording "LATE MAYERS" refers to Thomas, John & Joshua Mayer who operated from 1843.
---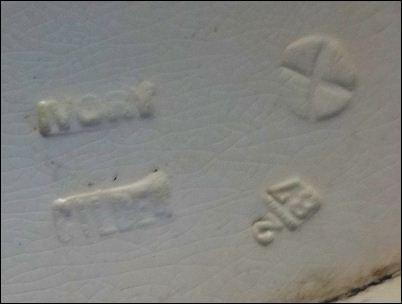 impressed mark on a platter also bearing the LEAF printed mark
IVORY
GILDEA
2/87
IVORY is the name of the type of body for the ware
2/87 is a date mark - it sugnifies that the ware was made in February 1887
The cross mark would have been a mould mark

---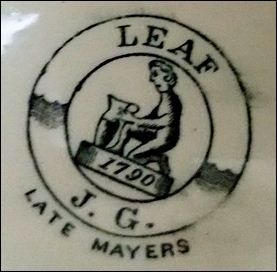 J.G.
Late Mayers
Bates & Elliot first introduced this kneeling nude potter
mark and it was used by successive owners at the Dale Hall potworks.
LEAF is the pattern name

on this mark
---

Hannover is the pattern name
---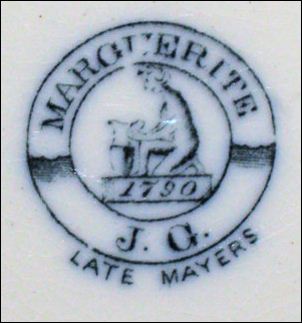 Marguerite is the pattern name
---
questions/comments/contributions? email: Steve Birks
---