Location and period of operation:
| | | | |
| --- | --- | --- | --- |
| Kirklands (Etruria) Ltd | Etruria | c.1938 | Feb 1947 |
Earthenware manufacturer at the Albion Pottery, Etruria, Stoke-on-Trent

The business of Kirkland & Co was retitled "Kirklands (Etruria) Ltd" c.1938 follow the purchase of an interest in Kirkland
by A.E. Gray in around 1936.

A.E. Gray were a decorator of bought in 'white ware' - one of their principal suppliers was Kirkland.

In 1940, during the Second World War, part of the Albion Pottery works was hit by German bombers - who would be looking to bomb the nearby Shelton Steel Works.

The Albion works were closed in 1941 during the government waretime Concentration Scheme. Both Kirkland and Gray continued business from the the Middleport Pottery of Burgess & Leigh.

In 1947 the company was voluntarily wound up (an administrative procedure - all the creditors were paid in full).
Formerly: Kirkland & Co

Subsequently: Kirklands (Staffordshire) Ltd
---
The London Gazette, 18 February 1947
notice of the voluntary winding up of
Kirklands (Etruria) Ltd
---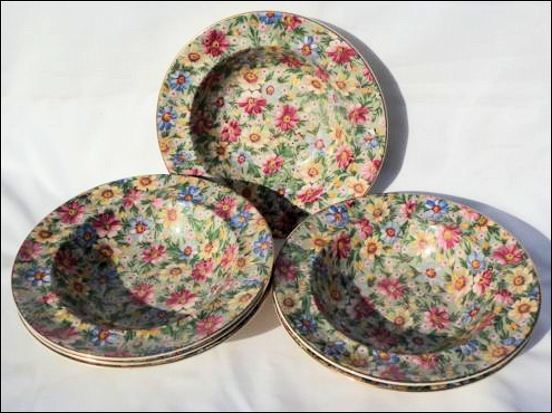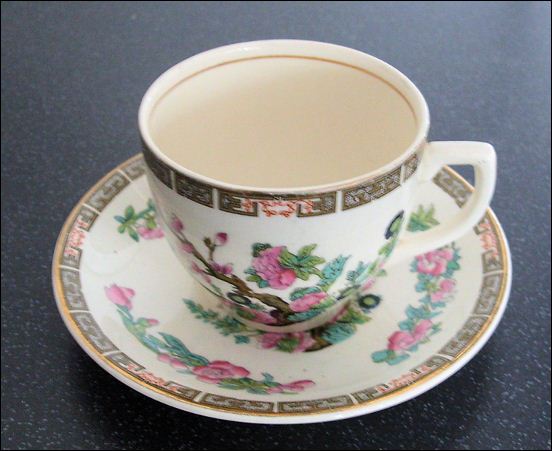 examples of ware made by Kirklands (Etruria) Ltd
---
Marks used on ware for identification: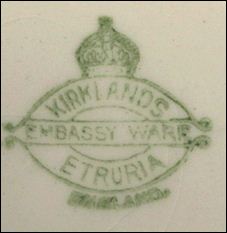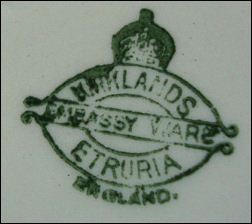 Kirklands
Etruria
England
Embassy Ware
mark used: 1938-47
---

Embassy Ware
trade name used by Kirklands (Etruria) Ltd
---
- click for more on the Albion Pottery -
---
Questions/comments/contributions? email: Steve Birks
---