| | |
| --- | --- |
| Samuel Radford (Ltd) | |
Location and period of operation:
| | | | |
| --- | --- | --- | --- |
| Samuel Radford | Longton | c.1879 | 1884 |
| Samuel Radford (Ltd) | Fenton | 1883 | 1955 |
China manufacturer at New Market Works, Longton and from 1883 at High Street East, Fenton, Stoke-on-Trent, England
Samuel Radford was the youngest of the four sons of Edward Thomas and Sarah Radford. In the 1861 census Samuel is listed as a 'flower painter on China' at the age of about 17.

Around 1875 he was in partnership with Joseph Amison and Joseph Perkins at the New Market Works, Chancery Lane, Longton.

By 1879 he was operating on his own account at the New Market Works. In the 1881 census he was recorded as employing 77 persons.

In 1883 Radford started to operate at a china works in High Street East, Fenton. [entry in 1951 Pottery Gazette records 'Est. 1833'.

Radford continued at the New Market Works in Longton as Radford & Ward until 1892.

At the Fenton Works his sons William, Samuel Jnr and Frederick all worked as clerks, Managers and warehousemen.

The business passed to Samuel's eldest son William.

In 1931 the company passed out of the family control whan it was sold to Lieutenant colonel Norman W. Elliott. The business continued with the name Samuel Radford Ltd.

Operation was suspended during the Second World War under the Wartime Concentration Scheme.

1951 the Managing Director was Lt.-Col. N.W. Elliot; Sales Manger - W. Harper; Works Manager - F.C. Irving.

In 1955 Norman Elliot sold the business to Stanley Harrison, the owner of Coalport China at that time. His intention was to transfer the Coalport business from the large Crescent Pottery in Stoke to the smaller Radford Works. This transfer either didn't take place or was only shortlived and by 1960 the factory had been demolished.

Manufacturing ceased in 1955 and the company Samuel Radford Limited was officialy dissolved in October 1966.
---
Samuel Radford was involved in a number of partnership at the New Market Works in Longton:
---


Samuel Radford
New Market Works, Longton
China Tea, Breakfast & Dessert Services for Home & Export
The Pottery Gazette, American and Canadian Edition, January 1st 1880
---

High Street East
Radford, Samuel, china manufacturer
from..... 1907 Staffordshire Sentinel
'Business Reference Guide to The Potteries, Newcastle & District'
---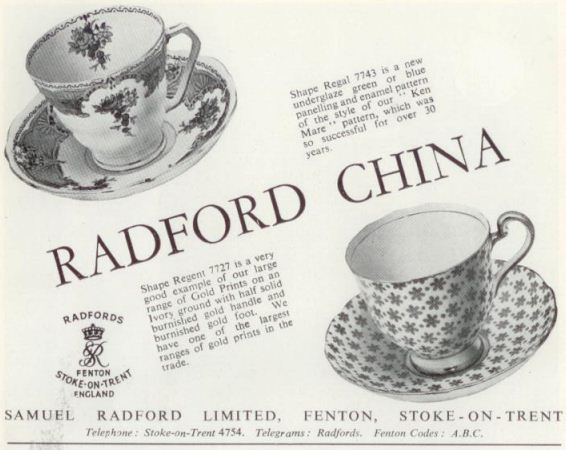 Radford China
1947 Pottery Gazette Reference Book
---

Radford cups and saucers - produced around 1880-1891

Radford simple blue transferware cup with guilded rim
- produced pre 1891
---

Willow pattern cup and saucer


S. Radford
Manufacturer
Fenton
Staffordshire
manufacturing date likely c. 1913-24
---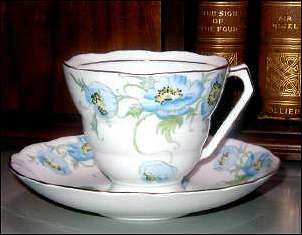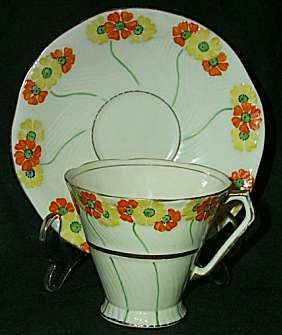 typical examples of Radford ware
---
Initials and marks used on ware for identification:
The company Samuel Radford used a number of variations of three basic designs of marks, with very few exceptions all marks feature a crown.
intertwined letters SR (mostly within a circle): c. 1879 to 1913.

the trade name 'Radfordian' was introduced around 1913 and appears to have been in use until c. 1924

around 1924 the introduction of the initials SR in a script format - there are many variations - with and without the town name FENTON and/or the city name Stoke-on-Trent. This style of mark was in use until the closure of the firm in 1955.

around 1938 a simpler mark was introduced without the initials SR. These marks had the words BONE CHINA or the trade name CROWN CHINA.

intertwined SR in a circle
with crown above

c. 1879-1891


SR mark with FENTON

c. 1883-1891


mark with SR in a circle - the addition of ENGLAND

c. 1891-1913


mark with SR without a circle - the addition of ENGLAND

c. 1891-1913
---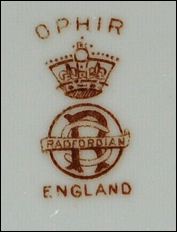 SR
Radfordian
England
c. 1913-1924
the trade name 'Radfordian' was introduced around 1913
and was in use until c. 1924
'Milton' and 'Ophir' are pattern names
---

SR
Bone China
Made in England

c. 1924+


SR
Fenton
England

c. 1924+
---

Radfords
SR
Bone China
Fenton
Made in England

Radfords
SR
Bone China
Fenton
Stoke-on-Trent
Made in England

SR
Stoke-on-Trent
Made in England
c. 1928+
many continued until 1955
- a number of variations occur -
[with and without "RADFORDS" at the top,
with and without "Bone China" or "Fenton"]
---

Radfords
Bone China
Made in
England

Radfords
Crown China
Made in
England

Radfords
Crown China
Made in
England

c. 1938 - 55
the trade name 'Crown China' was introduced around 1938

---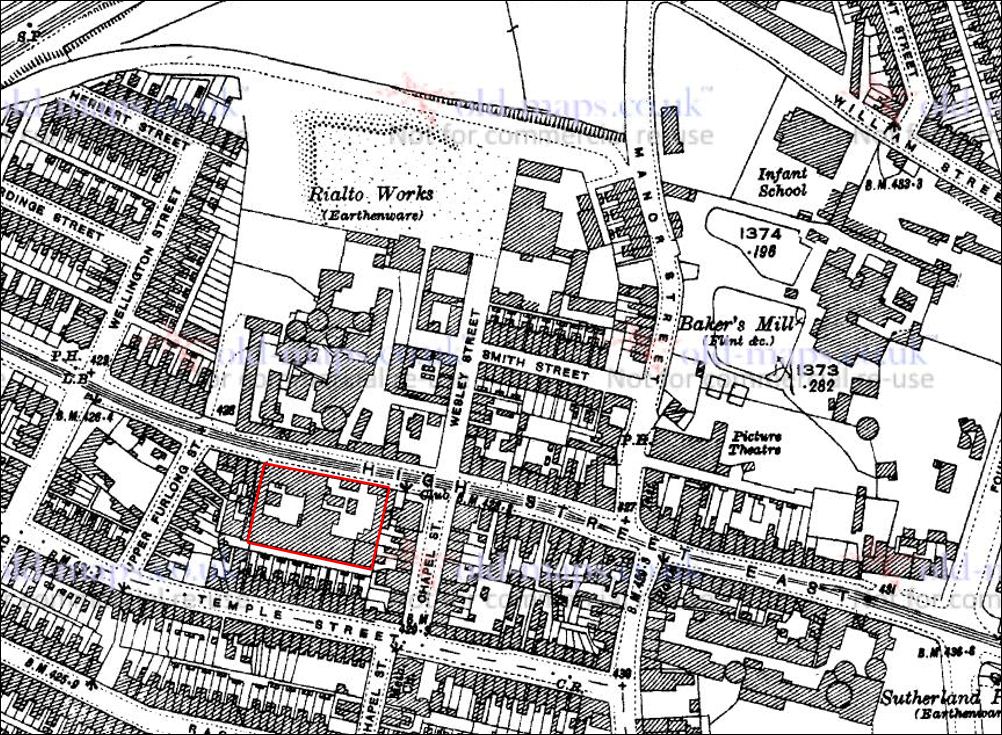 1924 map showing the location of the Radford works in High Street East, Fenton
---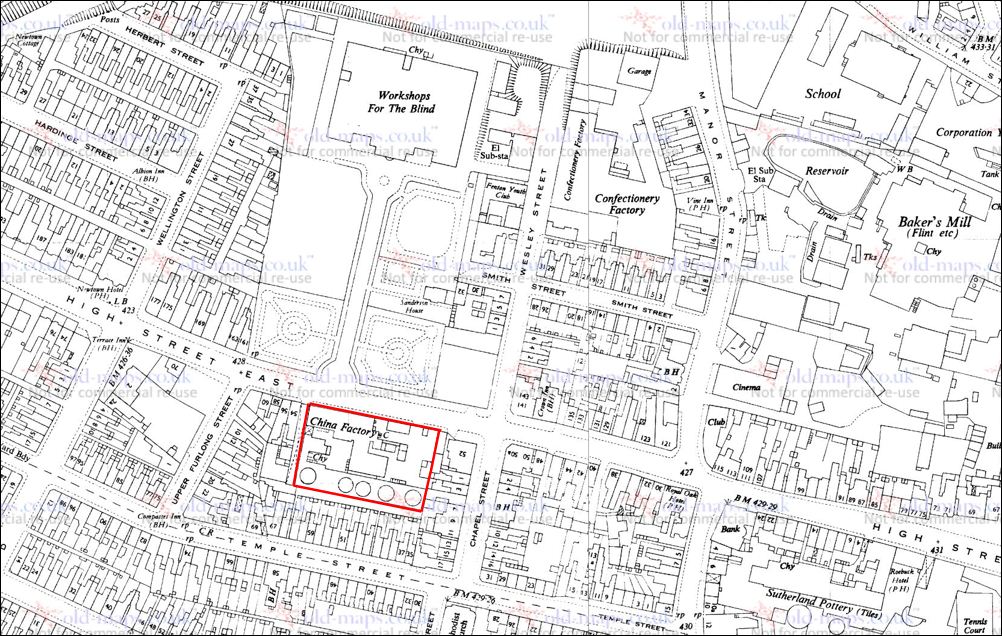 1953 map of the Radford works in High Street East, Fenton

---
Questions, comments, contributions? email: Steve Birks
---