Clay slip is poured into plaster moulds, the water is absorbed into the plaster mould and when the mould is split a clay replica of the mould remains.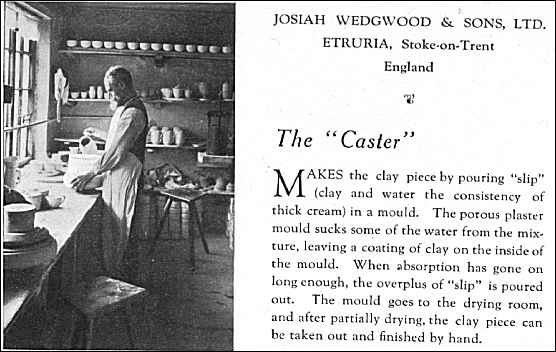 postcards from Wedgwoods


Plaster Moulds in the casting shop
These moulds are waiting to be cast, the opening where
the slip is poured in can be seen in the moulds at
the front of the picture. The slip is delivered by
the yellow flexible pipe from the blunger room.


Mould for the world famous "Staffordshire Dog"
Flatware such as plates which are smooth can be produced semi-automatically on a 'jigger' but a plate with relief on it such as the one below needs to be cast.

The water has been absorbed by the plaster mould, the mould opened and the clay plate is removed. This plate is soft and easily damaged, ware at this stage is called 'green'. The ware now needs to be dried and then fired to produce biscuit ware.

Cast plate with relief pattern
---
Examples of "casters" from the 1881 census for the Potteries area:-
1881 census:
Dwelling: 62 Russell St
Census Place: Trentham, Stafford, England
| | | | | |
| --- | --- | --- | --- | --- |
| Name | Marr | Age | Sex | | Birthplace | Occupation |
| Enoch COCKRAM | M 31 M | Head | Longton, Stafford | Potters Fireman |
| Harriet COCKRAM | M 23 F | Wife | Audlem, Stafford | Potters Caster |
| Ann HABBERLEY | M 21 F | Sister In Law | Butt Lane, Stafford | Potters Caster |
---
---