The occupation description 'painter' or 'paintress' covers a big range of skills, at the bottom end the painter simply put areas of colour wash on a monochrome plate. More skilled is the hand painting of ware as shown in the pictures below.
At the high skill level is the painter who is an artist and hand paints a scene on the ware as shown in the example of Anthony Forster's work.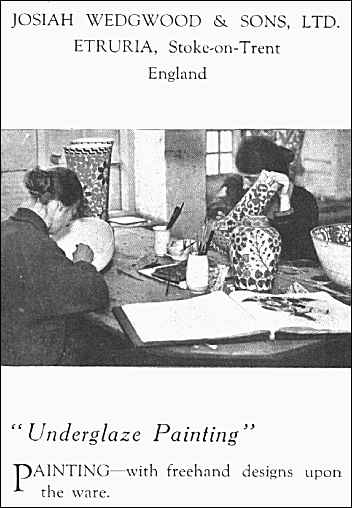 postcards from Wedgwoods
---

Hand painting the biscuit ware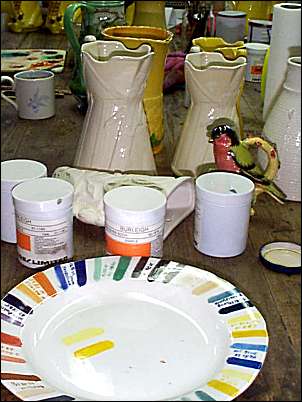 Sample colours and plate
The colours change during firing and so trials have to be
made to get the correct colour.
May 2000



'walk' around Burgess & Leigh
---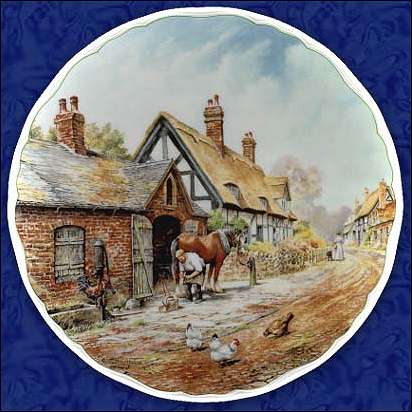 Anthony Forster was employed by Royal Doulton of Nile street Burslem, Stoke on Trent, from 1959 to 1966 as a ceramic artist and for most of that time in the prestigious Royal Doulton flambe department. During his time with Royal Doulton he was an active participant in the Royal Doulton Art Society
---
1840 Report:-

In 1840 the House of Commons set up a commission to inquire into the state of children employed in the mines and manufactories. Samuel Scriven visited the area of Stoke-on-Trent from December 1840 onwards to collect evidence.

these are two of of his interviews with young painters >>>
Mr. JOSEPH CLEMENTSON, High-Street, Shelton (Earthenware)
No. 94. Ann Dishley,
aged 9
I have been a painter 12 months last Martinmas. There are eight little girls work in the same room with me. Mary Worrelow looks after us ; we all come to work at six o'clock in the morning, and go home at six, we some go home to dinner; an hour is allowed us for dinner, and half an hour for breakfast.
I can read very well, but can't write ; I go to Bethesda Sunday-school, and went two years to day-school; they didn't teach me to write. Ann Dishley is very good to us, she never flogs us, or master either ; she is my mother. We get holidays, altogether perhaps a month.
Mr. Wm. RIDGEWAY'S Earthenware Factory, Charles-street, Hanley.
PAINTING ROOM.
No. 101. Hannah Jay,
aged 11
I have been two years a painter, am apprenticed to Mr. Ridgeway for seven years; I can read and write a little. I went to day-school four years, and now go to Sunday-school ; but I have not been lately, on account of mother not being able to spare me. I have two brothers, one 13, the other 9 ; they, have no work to do. I get 1s. 6d. a-week, come at six in the morning in summer, and seven in winter, and leave at four or six. We work four days a-week; we have one hour and a half allowed for breakfast and dinner.
---
Examples of "painters" from the 1881 census for the Potteries area:-
1881 census:
Dwelling: 54 Lyndhurst St
Census Place: Burslem, Stafford, England
| | | | | |
| --- | --- | --- | --- | --- |
| Name | Marr | Age | Sex | | Birthplace | Occupation |
| William PALIN | M 62 M | Head | Hanley, Stafford | Engraver On Copper Potters |
| Hannah PALIN | M 58 F | Wife | Hanley, Stafford | |
| William M. PALIN | U 18 M | Son | Hanley, Stafford | Figure Painter On Pottery |
1881 census:
Dwelling: 1 Loftus St
Census Place: (Stoke Upon Trent) Shelton, Stafford, England
| | | | | |
| --- | --- | --- | --- | --- |
| Name | Marr | Age | Sex | | Birthplace | Occupation |
| Isaac WILLIAMS | U 19 M | Son | Hanley, Stafford | Flower Painter On Pottery |
1881 census:
Dwelling: 40 Hill St.
Census Place: Stoke Upon Trent, Stafford, England
| | | | | |
| --- | --- | --- | --- | --- |
| Name | Marr | Age | Sex | | Birthplace | Occupation |
| Henry MITCHELL | M 57 M | Head | Burslem, Stafford | Artist Painter On Pottery |
| Wm. Hy. MITCHELL | U 17 M | Son | Stoke, Stafford | Apprentice China Painter |
---