Clay Pressman | Pottery industry Jobs

Clay Pressman

[ Web Site Index ]
The slip is not yet ready for tile-making, however: it must first be converted into powdered form. To this end it is pumped under pressure into a filter press consisting of a series of large envelopes of fine canvas held between concave-faced iron plates, with the result that the water trickles away through the canvas, leaving the solid particles behind in the form of large flat cakes of the plastic compound known as potter's clay.

The Clay Press

postcards from Wedgwoods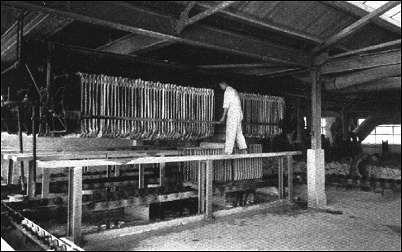 A filter press. Taking out the clay cakes

At one time the slip (liquid clay) which was now free of grit and impurities was converted back into useful clay for pottery manufacture by evaporating off the water.
Burgess and Leigh installed the latest equipment in their modern factory and William Boulton engineers produced a filter press, of the type shown below. This press quickly removed the water from the slip.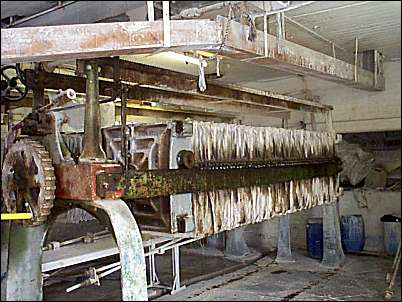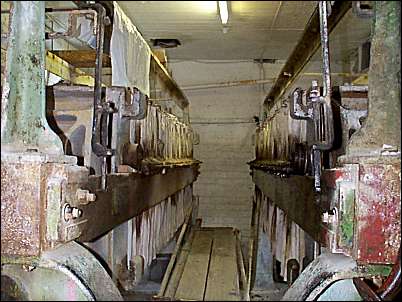 on Burgess & Leigh

1840 Report:-

In 1840 the House of Commons set up a commission to inquire into the state of children employed in the mines and manufactories. Samuel Scriven visited the area of Stoke-on-Trent from December 1840 onwards to collect evidence.

this is one of his interviews of a boy who worked in the press room >>>
EARTHENWARE FACTORY, Eldon Place, Stoke;
Proprietors Messrs. MINTON and BOYLE.
PRESS ROOM. Degree of heat by Fahren. 98, open air 42.
No. 1. Benjamin Taylor,
aged 12

I have worked in the press-room 2 years; I come at half past 6 in the morning, and leave at 6 at night. I have half an hour for breakfast, 1 hour for dinner.
I make cockspurs to place ware upon when it is baked; have one brother working in same room. I t 4s. a-week; don t know what brother gets, he is older; got a mother, but no father: father has been dead 10 years; he was a presser; working here; he died of consumption; he was 49, when he died, I give my money to my mother; get nothing for myself; never work over-hours.
I go to Sunday-school down to Methody's; can read, can write, can cipher a little; can tell how much 5 time 7 is, 21; 4 times 9 is 30 (sic); my health is pretty good; can eat, drink, and sleep pretty well. I find it very hot in the work-room, and very cold when I go out. I make no difference in clothing, summer or winter; believe there are no boys or girls in the works who do night-work. I get meat for dinner three or four times a-week; other days milk and tatoes. Sometimes open the windows, but can't stand the draught.

December 4th, 1840.
---
Examples of "press room workers" from the 1881 census for the Potteries area:-
1881 census:
Dwelling: 41 Talbot Street
Census Place: Stoke Upon Trent, Stafford, England
| | | | | |
| --- | --- | --- | --- | --- |
| Name | Marr | Age | Sex | | Birthplace | Occupation |
| James ANDERSON | M 39 M | Head | Hanley, Stafford | Clay Press Man (Potter) |
| Mary E. ANDERSON | M 33 F | Wife | Shelton, Stafford | Milliner |
1881 census:
Dwelling: 9 Bateman Plce
Census Place: (Stoke Upon Trent) Shelton, Stafford, England
| | | | | |
| --- | --- | --- | --- | --- |
| Name | Marr | Age | Sex | | Birthplace | Occupation |
| Ann JONES | M 46 F | Head | Lambeth, Surrey | Press Cloth Maker |
| Samuel ANOTTS | U 22 M | Son | Newcastle, Stafford | Potters Clay Presser |
---
---