Listed Buildings in Stoke-on-Trent and area
Bethesda Methodist Church, Hanley
---
Area
Hanley
Street
Albion Street
Heritage No.
45 A
Grade
II*
Date Listed
19 April 1972
Building: Bethesda New Connexion Methodist Chapel
Location:

STOKE ON TRENT SJ8847 ALBION STREET, Hanley

Description:

Methodist Chapel. 1819 with additions of 1859 and 1887. Brick with stuccoed facade
Bethesda Methodist Chapel - one of the largest nonconformist chapels outside London. It seated up to 2,000 people, in 2002 the Historic Chapels Trust became the owner of the Bethesda chapel and embarked on a programme of restoration. Bethesda Chapel is one of Stoke-on-Trent's most impressive surviving 19th-century buildings

Bethesda Methodist Chapel c. 1893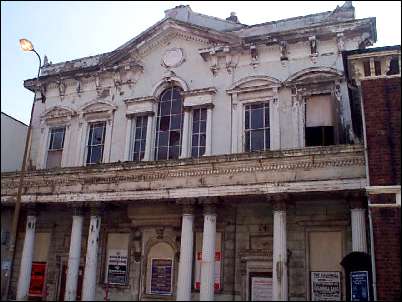 Bethesda Methodist Chapel 1999
---

Methodist Chapel. 1819 with additions of 1859 and 1887. Brick with stuccoed facade, and slate roof. 2-storeyed.

Pedimented entrance fronts to Albion Street, with rusticated lower storey and full length portico with heavy cornice carried on paired fluted Corinthian shafts. Paired doorways to left and right behind, the inner doors having entablatures carried on consoles, and the outer doorways with tall architraves. Central window with entablature carried on paired consoles. Palladian window over, with Corinthian shafts beneath central pedimented gable. Outer windows are sashes with margin lights.

Rear of chapel is Flemish bond brickwork with buff headers. 5 bays and shallow curved apse. Windows with margin lights and stuccoed heads with expressed keystones (blocked to first floor). Central section of apsidal and expressed by raised section to cornice, with panelled decoration.

INTERIOR:
Previous description records a continuous raking gallery with a plaster vaulted soffit, carried on cast-iron columns. The balustrade is panelled, above a minimal Doric entablature with widely spaced-paterae. On the street side, the gallery is dominated by a large organ in a baroque case. Beneath it, at ground level, is a fine octagonal pulpit reached by two opposed flights of stairs, with cast-iron balustrades and hardwood rails.

The pulpit stands within a contemporary communion rail, of similar construction to the stair balustrades, defining an oval sanctuary. Both are by Robert Scrivener, 1856. Half-glazed timber screens separate the stairs on the street front from the body of the church. With its pews and minor fittings largely intact, the interior stands virtually as it was finished in 1859 save for a replacement ceiling.

The burial crypt below contains a monument to Rev. William Driver, 1831.
---

Bethesda in Hanley was the Conference Church for the whole of the Methodist New Connexion
this is a postcard of the church exterior
In the autumn of 1859 the front of the Chapel was remodelled. A colonnade with Corinthian pillars was erected at the front of the building, a central upper window was added, and the whole was surmounted with a massive cornice and Grecian ornaments. The frontage was enclosed by a cast-iron palisade, with gates and pillars set in stone.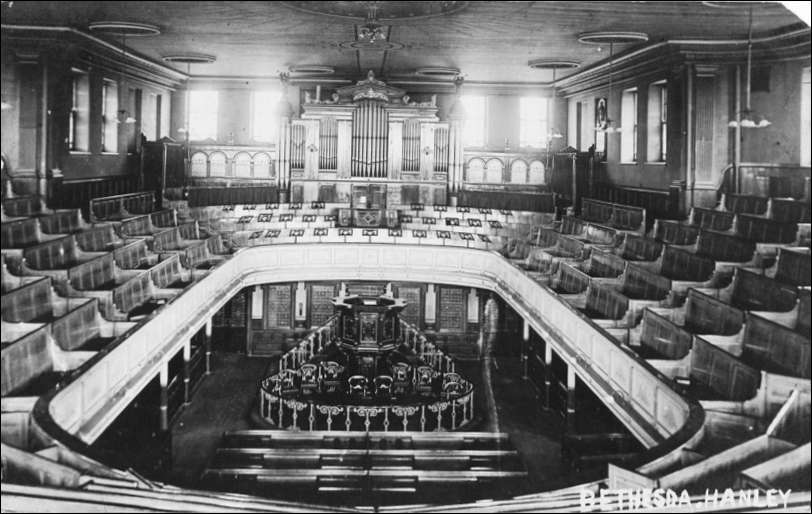 postcard of Bethesda church interior
the organ can be seen in the upper gallery
and in the centre bottom the pulpit and communion rail
in 1856 a new pulpit and communion rail were installed, designed by the architect Robert Scrivener. Scrivener was a member of the congregation and also designed Hanley Town Hall - at gallery-level above the pulpit is a mid-19th-century Kirtland & Jardine organ, which has a classically inspired organ case and ornate corner towers.

more on Bethesda Chapel



Job Ridgway


Job Meigh
two of the 1803 trust signatories

copy of 1803 trust of a Chapel called Bethesda




next: War Memorial, Albion Street, Hanley
previous: Former Town Hall, Hanley