Listed Buildings in Stoke-on-Trent and area
Parish Church of St. John The Baptist
---
Area
Burslem
Street
Woodbank Street
Heritage No.
6a
Grade
II
Date Listed
2 October 1951
Building: Parish Church of St. John The Baptist
Location:

STOKE ON TRENT SJ8649NE CROSS HILL, Burslem

Description: Rebuilt 1717 retaining late west tower of 1536.

St. John the Baptist church, Burslem
© Mr Brian Peach - photo: January 2001
in the background can be see the bottle kilns of
Acme Marls which are also listed buildings

---
Parish Church. Largely as rebuilt in 1717, but with 16th Century tower and chancel added in 1788. Coursed and squared rubble to tower, the rest of brick on stone plinth, with tiled roofs. West tower, nave and chancel. West tower of 2 stages with very low door with chamfered jambs and flat arched hood mould. 3-light Perpendicular window over, and 3-light opening to bellchamber above.
Angle buttresses and embattled parapet. Nave of 6 bays, the outer bays to east and west in south elevation with doorways with moulded architraves, and pediment to the east. Eastern doorway also in the north. Windows are round arched with stone springers and keys, and have Y-tracery.
Smaller windows with similar detailing over doorways. Moulded eaves band, and stone plinth which is possibly a survivor from the 16th Century church.
Chancel projects only slightly from line of nave, and has apsidal east end containing Palladian window with moulded cornice and brackets to sill.
(The Buildings of England: N. Pevsner: Staffordshire: Harmondsworth).
---



Burslem town 2008
St. John's church is at the bottom right of the picture - the three bottle kilns of Acme Marls are on the opposite side of Baptist Street. The clearance of the land behind Burslem town centre can be clearly seen


Acme Marls and St. John's church


aerial photos: MS Virtual Earth 2008

---
The church, dedicated to St. John, is a large modern brick edifice, with an ancient stone tower; the benefice is a rectory, in the patronage of William Adams, Esq. of Cobridge, and the incumbency of the Rev. Edward Whieldon, whose curates are the Rev. Samuel Jones and the Rev. John Buxton Marsden.
Pigot & Co's 1828/9 Directory of Staffordshire
Burslem was formerly a chaperly in the parish of Stoke, but was constituted a separate parish by act of parliament in 1807. The old church is a brick erection, with a stone tower of greater antiquity than the body; the living is a rectory.
Pigot & Co's 1841 Directory of Staffordshire
St. John's church is a brick edifice, with a massive stone Norman tower.
Wilson's 1870-2 Imperial Gazetteer of England and Wales
---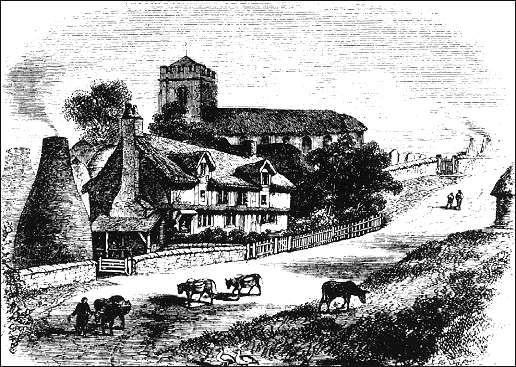 The Churchyard Works
where Josiah Wedgwood served his apprenticeship
The illustration above shows the house and works in front of St John's Church.
The church is shown with a thatch roof.
The small pottery site occupied and worked by the Wedgwood family from 1656, when Josiah Wedgwood Iís great-grandfather first took possession of it.
Josiah served his apprenticeship there. The site derives its name from the nearby Church of St Johnís, where Wedgwood himself was baptised on 12th July 1730


St John's church at the time of the Wedgwood Church Yard Works
is shown covered in thatch (see sketch above)
After a serious fire the nave was rebuilt in brick and tile in 1717.
The west tower of 1536 was retained.

The chancel projects only slightly from line of nave, and has apsidal east end containing a Palladian (Venetian) window with moulded cornice and brackets to sill.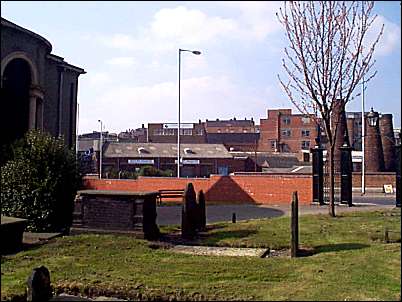 View to the edge of Burslem town - with the bottle kilns
of Acme Marls
photos: 2000


more on St. John's Church




next: Nat West Bank, Burslem
previous: Bottle Kilns at Acme Marls, Burslem