A photo walk around Fenton, Stoke-on-Trent

Views along King Street
location 31 on the map |tour map|




next: Royal British Legion
previous: Glebe Primary School

View along King Street (Park Street to the left)
this area was once known as Lane Delph
King Street was originally Market Street and was renamed in the early 1950's

see aerial photo of Lane Delph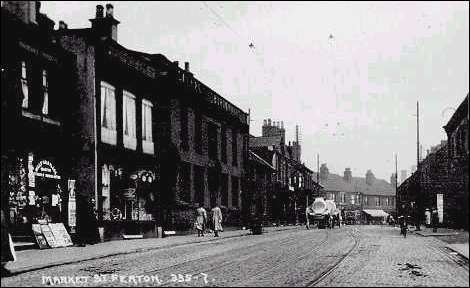 Market Street, Fenton (c.1923)
The photograph was taken from opposite the present Duke of Wellington Inn, looking towards Longton.
The street was renamed King Street.
All the property on both sides of the road to the other side of the carts carrying flint slip have gone.
King Street Post Office is in the distance.
---

view down King Street looking towards 'Victoria Square' and the junction with Victoria Road.
photos: July 2000
---