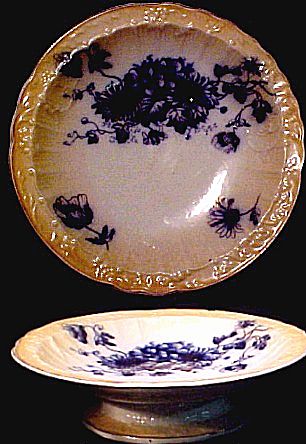 HANCOCK & SONS CAKE PLATE, BLUE AND WHITE
---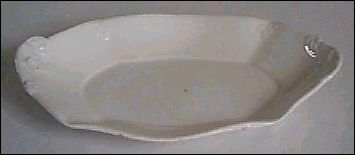 S. Hancock & Sons Stoke-On-Trent-England Semi-Porcelain. It measures: 8" x 5"
---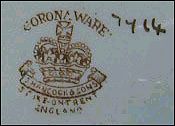 The bright colors and wonderful molding and painting make this a charming cottageware cheese dish.
The base measures 7.5" by 6.25" and the base and cover together are 5" high. The mark on the bottom is Corona Ware
---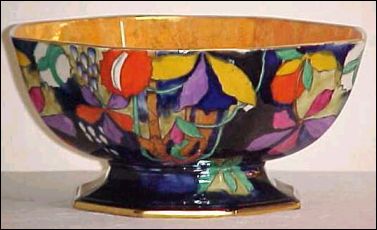 This large early piece of English lusterware is in Hancock's "Corona Ware" line and was hand decorated and signed by Molly Hancock in the exuberant "CREMORNE" pattern. This line was developed in reaction to the increased interest at that time to lusterware. 4 1/2" high with a 9" diameter
---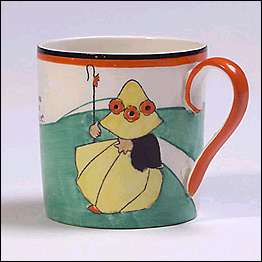 Earthenware mug. Over glaze printed pattern of shepherdess and sheep, with rhyme- 'Little Bo-Peep Has lost her sheep and Doesn't know where to find them. Leave them alone and they'll come home Bringing their tails behind them. Molly Hancock'. Over glaze painted details.
Produced under the trade name 'Corona Ware' by S. Hancock & Sons.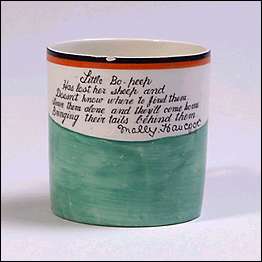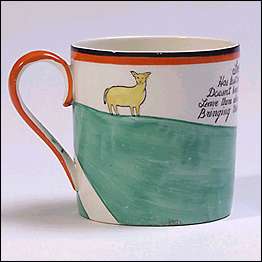 Mug 1930-1937
Over glaze printed & painted earthenware
H : 53 mm

Molly Hancock mug - in the collection of Stoke-on-Trent's Potteries Museum
---
Rubens Ware
Hand painted Hancock's Ware
by the artist F.X. Abraham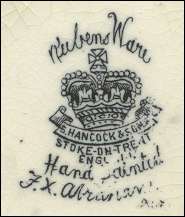 ---